Indiana Association of City and Town Court Judges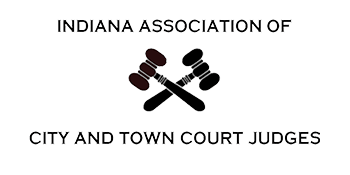 The Indiana Association of City and Town Court Judges is an affiliate group of Aim's. The Association is made up of city and town court judges located throughout Indiana.
Mission Statement
The mission of the Indiana Association of City and Town Court Judges is to promote and improve the effective administration of justice; to protect the status and independence of the judiciary; to promote and practice judicial efficiency and professionalism to our respective jurisdictions; and to work toward a common system of practices and procedures in order to appreciate statewide uniformity and strengthened judicial relationships.
Common Goals for the Association
Establish and cultivate an acquaintance between all judges of the State of Indiana.
Meet and assist each of the members in obtaining a state view of the operations of the legislative enactments and the application of state laws.
Confer with the representatives of other departments of government.
Render such assistance as this organization is capable of furnishing as the result of its membership having experience as judges and having direct knowledge from observing the effects of legislation and through the administration of justice.
Exert a coordinated effort toward a more efficient and quality administration of justice and more clear and uniform procedure in all courts statewide.
Advocate for fair compensation and benefit / retirement programs for judicial officers.
Preserve and protect judicial independence and uphold the integrity of the judiciary.
Why City and Town Courts are Important to Indiana's Judicial System
Throughout Indiana, there are 64 city and town courts. City and town courts are considered "special courts" and their work to address low-level offenses such as ordinance violations, infractions and misdemeanors, help relieve the burden with crowded dockets at the county court level. Local enforcement and compliance matters can be more easily addressed at the city and town level where there is greater accessibility to the judicial process and ultimately less cost to citizens.
About the Judges
Most city and town court judges are attorneys, however, there are a handful of lay judges that have been grandfathered following the passage of a state law in 2015 requiring all judges to be licensed attorneys. Of the 64 city and town court judges in Indiana, most are members of the Indiana City and Town Court Judges Association.
City and Town Court Judges Annual Conference
City and town court judges, mark your calendars! The annual meeting will be held October 3-4, 2019 at the Marriott East in Indianapolis. The association leadership has been meeting with the Indiana Judicial Center to come up with a great line up of educational topics. The association will also hold a meeting in conjunction with the conference.
Helpful Resources
Information from the Indiana Judicial Center regarding Continuing Legal Education
Association General Information
Membership
The Indiana Association of City and Town Court Judges is open to any municipal judge.
Dues
Dues for the association are $50 and are payable on January 1 of each year. Invoices will be sent out prior to January 1 to existing members.
Association Officers
Elections for association officers are held every two years. The next election will be held in October 2018 at the association's annual meeting. The current officers are as follows:
President:   The Honorable Kyle Noone, Elwood City Court Judge
Vice President:   The Honorable Donald Gillespie, Portland City Judge
Secretary: The Honorable Maureen Owen, Avon Town Court Judge
Treasurer: The Honorable Susan Leib, Mooresville Town Court Judge
Committees
Legislative Committee:
The Honorable Steven Barker, Gas City Court Judge
The Honorable James J. Fry, Winchester City Court Judge
The Honorable George M. Gasparovic, Pendleton Town Court Judge
The Honorable Daniel E. Henke, Fishers City Court Judge
The Honorable Kent A. Jeffirs, Crown Point City Judge
The Honorable Joseph R. Johns, Lawrenceburg City Court Judge
The Honorable Kyle Noone, Elwood City Court Judge
The Honorable Scott Norrick, Edgewood Town Court Judge
The Honorable Maureen Owen, Avon Town Court Judge
The Honorable Mark Peden, Martinsville City Court Judge
The Honorable Bodie Stegelmann, Goshen City Court Judge
The Honorable Andrew J. Wells, Beech Grove City Court Judge
The Honorable Linda Wilcox, Union City City Court Judge
Education Committee:
The Honorable Steven Barker, Gas City Court Judge
The Honorable George M. Gasparovic, Pendleton Town Court Judge
The Honorable Kyle Noone, Elwood City Court Judge
The Honorable Scott Norrick, Edgewood Town Court Judge
The Honorable Lori Sabol, West Lafayette City Court Judge
The Honorable Leroy Wheeler, Cumberland Town Court Judge