2023 Aim Legislative Dinner
Wednesday, March 8, 2023
6:30 p.m. – 9:30 p.m.
The Westin Indianapolis
241 W Washington Street
Indianapolis, IN 46204
Presented by 

Several years ago, Aim reimagined our annual event to connect and strengthen relationships between local leaders and lawmakers.  Since then, this successful gathering has evolved into a must-do event and we look forward to seeing you during the 2023 Legislative Dinner!
Thanks to our committed sponsors, this event is free of charge for Aim municipal members.  The evening of celebrating everything our partnership with lawmakers has given the State of Indiana: quality places that attract top talent, vibrant arts and culture hubs, unique towns that epitomize what it means to be a Hoosier, and so much more.
Registration is complimentary for Aim Municipal Members and Legislators. The registration fee for Aim Corporate Members is $199. Registration deadline is Wednesday, February 22. Please notify Aim of any cancellations prior to Wednesday, March 1. Advance registration is required. Onsite registration is not available. Business attire recommended. Aim members and legislators will be sat according to their legislative district. All members of the Indiana General Assembly are invited to this event.
 Governor Eric Holcomb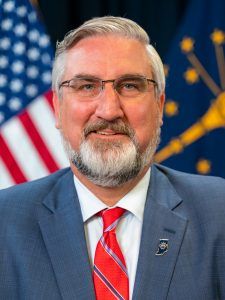 A lifelong Hoosier, Governor Eric Holcomb is a veteran of the United States Navy, served as the state's 51st Lt. Governor, was a trusted advisor to both Gov. Mitch Daniels and Sen. Dan Coats, worked for Congressman John Hostettler and is a former state chairman of the Indiana Republican Party. He was elected governor in November 2016 and re-elected in 2020.
To accelerate the state's economic growth, the state launched the Regional Economic Acceleration and Development Initiative (READI), a bold, transformational initiative that will dedicate $500 million in state appropriations to promote strategic investments that will make Indiana a magnet for talent. In the 2022 legislative session, Gov. Holcomb successfully positioned Indiana to compete at an even higher level for economic development opportunities by modernizing the tools available to the state's economic development arm and continues to maintain a high level of reserves while returning funds to Hoosiers through an automatic taxpayer refund and lowering individual income taxes.
Gov. Holcomb is focused on moving our state forward. In his first months as governor, he led the way for the largest long-term infrastructure investment in our state's history with the long-term, fully funded 20-year, $60 billion Next Level Roads program. He also created the Governor Public Health Commission in 2021 to study and make recommendations this year about how the state can improve the delivery of public health services throughout Indiana. All of this work is underscored by Gov. Holcomb's commitment to delivering great government service for Hoosier taxpayers. Indiana was Indiana Governor Eric Holcomb ranked first in the nation for government efficiency by U.S. News & World Report in 2017.
The Governor is a graduate of Pike High School in Indianapolis and Hanover College in southeastern Indiana where he majored in U.S. History with a focus on the American Civil War and the Reconstruction Era. He is a collector of presidential signatures and currently has documents signed by all 45 of our nation's presidents. He and his wife, Janet, live with their Miniature Schnauzer, Henry, and their cat, Topper, in the Governor's Residence on North Meridian Street in Indianapolis.
Dr. Katherine Loflin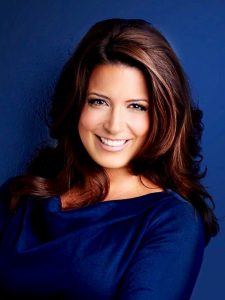 Dr. Katherine Loflin through her global brand of "The City Doctor" is an award-winning, internationally recognized trailblazer on place science–what makes people love their city and why it matters to economic vitality and individual well-being. Her work has been cited for improving the quality of life for millions of people globally through her groundbreaking place research and projects, book "Place Match", former radio show, TEDx talks, frequent press appearances, and hundreds of invited keynotes around the world.
Through her production company The City Doctor Productions, Dr. Loflin also writes and produces the stories of local history through original stage productions, film projects, and innovative events that are consistently sold-out, profit-making projects, earning her national and statewide awards and recognition.
Dr. Loflin previously served as the Program Director for the Knight Foundation in Florida, where her grant portfolio required her to guide the Knight's charitable investment of $20 million annually in its 26 communities. Her executive roles at Knight included Grant Director in two US communities, Director of the Community Foundations Initiative, Grantee Technical Assistance Program, and the Disaster Relief Fund, as well as being the in-house expert on civic engagement, race relations, program evaluation, and community best practices.
During graduate school, Dr. Loflin was recognized by the National Association of Social Workers as the first social worker ever placed in a local television newsroom to assist the reporters in the creation of responsible social issue stories at an NBC affiliate in North Carolina. She received her Masters and Ph.D. in Social Work from the University of North Carolina at Chapel Hill with concentrations in Community Practice and Journalism. Her dissertation entitled, "Bonding and Bridging Social Capital and Its Relationship to Community and Political Civic Engagement" was reviewed and highly praised by Dr. Robert Putnam as a significant contribution.
Dr. Loflin is a North Carolina native and a direct descendant of North Carolina's First Families, who were the original settlers of the state arriving prior to 1729. She lives with her daughter in Cary, North Carolina.
— SOLD OUT —
Sponsorships
Securing major sponsorships for the Aim Legislative Dinner allows Aim to offer this important legislative event to our municipal membership and all Indiana legislators at no cost to them. 2023 Aim Legislative Dinner Sponsorships are available to 2022 and 2023 Aim Corporate Members. Aim Corporate Member registration fee is $199 per person.