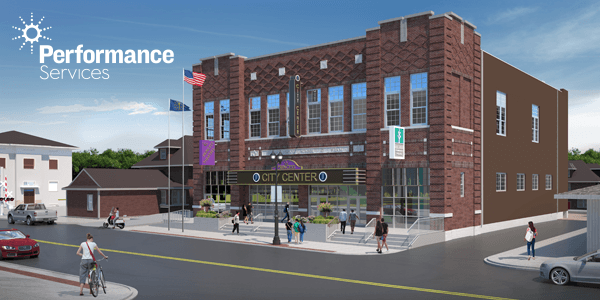 Jim Christie, Business Development Manager, Performance Services
The City of Rushville is renovating a 104-year-old downtown Masonic Temple into a City Center that will serve both community members and visitors. The new Rushville City Center will provide a venue for entertainment, education, and government efficiency. The transformed building will be the new home to the Wolf Theater, Ivy Tech College, and City Hall with Mayor's office, city government offices, and community meeting space. The renewed building will also unify the City's recent downtown projects, including the Riverside Amphitheater, the Farmers' and Artisans Marketplace, and several new building murals.
Having previously tried to renovate the building using the traditional design-bid-build construction delivery method, the City needed a construction method that would bring the project to completion within their available budget and timeframe. The City of Rushville pursued progressive design-build as a construction delivery method because of its many benefits including owner engagement during design development, a progressive budgeting process, and improved speed of project delivery. Performance Services was then selected in a competitive design-builder process to complete the project.
City Center Marquee – Crowd Grant Fundraising Project
After a year of planning with the Performance Services' design-build team and months of construction, the City Center is nearing completion. The City wants the exterior of the building to reflect the interior and to inform community members of everything offered inside the space. However, community support is needed to give the renovated City Center the crowning jewel it deserves: a stately marquee! The City of Rushville has the opportunity to receive a $50,000 matching grant from the Indiana Housing and Community Development Authority, but ONLY if the community raises $50,000 first!
Please consider donating to help fund the Marquee!
To learn more about Performance Services and the City of Rushville City Center project, visit: https://www.performanceservices.com/project/city-of-rushville