Indiana Conference of Mayors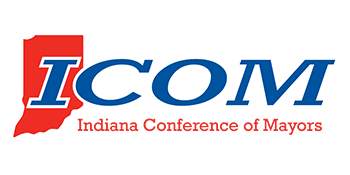 The Indiana Conference of Mayors (ICOM) is a non-partisan affiliate group of Aim designed exclusively for mayors. ICOM convenes regularly during Aim events and hosts an annual gathering each summer that is equal parts classroom education, networking, and idea-sharing.
Save the Date! 
ICOM Annual Meeting
July 18 – 20
Graduate Hotel, Bloomington
Monticello Mayor Cathy Gross Elected Indiana Conference of Mayors President
Madison Mayor Bob Courtney Elected Vice-President
INDIANAPOLIS – At its annual meeting held earlier this month in Carmel, the Indiana Conference of Mayors (ICOM) elected Monticello Mayor Cathy Gross president of the organization.  Gross took office immediately and will serve for one year in the position.
"My fellow mayors inspire me in countless ways. That they chose me to lead this vital organization is an honor I accepted with so much enthusiasm. In this role, I look forward to being an aggressive advocate for Indiana's cities among lawmakers and other state leaders, a promotor of continuing education among my peers, and hopefully, a source of support for every Hoosier mayor," said Mayor Gross.
Also in Carmel, Madison Mayor Bob Courtney was elected to serve as the group's vice-president. Courtney is serving in his first term as Madison's mayor.
"Being mayor is such a rewarding role and being able to work closely with my fellow mayors is definitely a highlight for me. ICOM provides mayors opportunities to interact with our peers on any number of municipal issues.  I look forward to working with Mayor Gross to ensure lawmakers and other stakeholders understand Indiana needs policies that foster growth and innovation in all of our cities, regardless of size or geographic location," said Mayor Courtney.
Formed in 1998, the Indiana Conference of Mayors (ICOM), is an affiliate of Aim, the advocacy group for Indiana's cities and towns. Its purpose is to give special focus on the needs and concerns of the elected chief executives of Indiana's 120 cities.
###
Source: Press Release, August 22, 2022
2022 – 2023 Officers
President
Mayor Cathy Gross
Monticello
Vice President
Mayor Bob Courtney
Madison
Contact us
Matt Greller
Chief Executive Officer
[email protected]
317-237-6200 x 224