Indiana Municipal Lawyers Association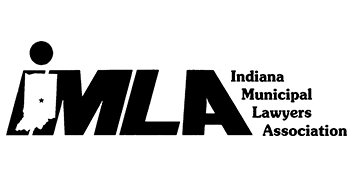 The Indiana Municipal Lawyers Association (IMLA) was formed in 1983 to collect and disseminate information on matters of concern to attorneys practicing in the field of municipal law, promote the continuing education of attorneys on issues affecting municipal law, and provide forums for attorneys practicing municipal law to meet and exchange ideas and professional experience.
Four Municipal Attorneys earn Longevity of Service Awards at Annual Law Conference
David Austgen, Shaw Friedman, Gregg Morelock, Thomas Pitman Recognized for Decades of Public Service
INDIANAPOLIS – During their 39th annual Municipal Law Seminar, the Indiana Municipal Lawyers Association (IMLA) recognized attorneys with at least 25 of service to at least one Hoosier municipality.  Four attorneys were honored during a luncheon presentation at the conference, held June 23-24 in Indianapolis.
IMLA Longevity of Service Award honorees: 
David Austgen – Since graduating from both Notre Dame and John Marshall School of Law, Austgen has spent his career specializing in municipal law, assisting communities throughout northwest Indiana.  David Austgen is Managing Partner at Austgen, Kuiper Jasaitis P.C.
Shaw Friedman – After earning his law degree from Notre Dame, Friedman built an extensive practice in government litigation spanning nearly thirty years. Shaw Friedman is Principle Attorney at Friedman & Associates P.C.
Gregg Morelock – Morelock earned both his undergrad and law degrees from Indiana University and currently represents at least eight municipalities and other governmental boards and commissions. Gregg Morelock practices at Brand & Morelock in Greenfield, Indiana.
Thomas Pitman – Both a Yale and Harvard University graduate, Pitman has spent his more than 30-year career helping municipalities and other units with various tax and public finance matters. Thomas Pitman is a partner at Barnes & Thornburg LLP. 
IMLA Executive Director Becca McCuaig said honoring long-time municipal lawyers is an important feature of the conference.  "Representing public entities such as cities, towns and counties means countless hours in meetings and hearings, working through the many nuances that come with protecting the public's interests. The attorneys honored during this year's Seminar are a great representation of the commitment necessary to be in this critical line of work," said McCuaig.
"Each of the attorneys honored with a 2022 Longevity Award possesses unique skills and talents. What they share, however, is a dedication to sound local government practices and an eagerness to continue growing in this profession. I was thrilled to present all four of them with their award," said Laurie Hardwick, 2021-2022 IMLA President and current Greencastle city attorney. 
Source: IMLA Awards Press Release 2022
CLE Distant Education Credits
Aim now offers CLE Distant Education Credits when you participate in certain qualifying webinars. Watch for webinar advertisements informing attorneys of CLE Distant Education Credits. If you have any questions about whether a particular webinar will qualify for CLE, please contact Erin Jamison-Koenig at [email protected].
Distant Education CLE credits are limited. The mandatory continuing legal education rule provides that no more than eighteen (18) hours of the 3-year Educational Period requirement shall be filled through interactive Distance Education.
The Indiana Commission on Continuing Legal Education has adopted a fee schedule for late applications and attendance filings. If Aim has to make a late filing because the Attendance Certification Sheet was not turned in by the attendee in a timely fashion, then Aim will ask for the late fee before the CLE attendance filing is made.
Board of Directors
President
Beth McFadin Higgins
City Attorney, City of Mount Vernon
McFadin Higgins & Folz, LLP
Vice President
Anne O'Connor
Corporation Counsel, City of Indianapolis
Immediate Past President
Laurie Hardwick
City Attorney, City of Greencastle
Secretary/Treasurer
Gregg Morelock
Brand & Morelock
Board Members
John P. Bushemi
City Council Attorney, East Chicago
Burke Costanza & Carberry LLP
Thomas (Buddy) K. Downs
Kennedy, Downs & Arland P.C.
Shane L. Gibson
City Attorney, City of New Albany
Chris Goffinet
County Attorney, Perry County
Huber, Goffinet & Hagedorn
Tom Hunt
Corporate Counsel, City of Marion
Edward Ormsby
County Attorney, Kosciusko County
Ormsby LLC