Indiana ADA and Title VI Coordinators' Association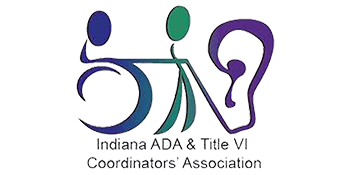 The Indiana ADA and Title VI Coordinators' Association provides members who handle ADA compliance with a network of educational resources. The Association serves as a statewide resource for promoting the implementation of the Americans with Disabilities Act. The group's Steering Committee meets regularly to oversee the implementation of objectives, authorize allocations of grant monies, and review ADA implementation across the state.
Through their partnership with Aim, the Association offers several technical and training resources for ADA coordinators and related compliance officers. Choose from a selection of online courses covering anything from ADA basics, transition plans, and Title II and Title VI considerations to statistical data collection and analysis, developing policies, providing public input, maintaining records, and reporting goals.
2022 – 2023 Association Officers
President
Ben Merida, City of Martinsville
District Representatives
Crawfordsville: Joe Whitaker, Fountain County
Fort Wayne: Krista Maxwell, City of Fort Wayne & Charity Murphy, Allen County
Greenfield: Monte Poling, Union City
La Porte: Tom DeGiulio, Town of Dyer
Seymour: Mark Richards, City of Franklin
Vincennes: Chad Hurm, City of Jasper
Contact Us
Lesley Mosier
Chief Administrative & Development Officer
[email protected]
317-237-6200 x 223
For U.S. Department of Justice publications and guides on best practices and implementation and more, visit the ADA site. 
Or contact:
Ben Merida
First Deputy Clerk, City of Martinsville
995 Rodgers Road
Martinsville, IN 46151
(765) 352-2996
[email protected]