Indiana League of Municipal Clerks and Treasurers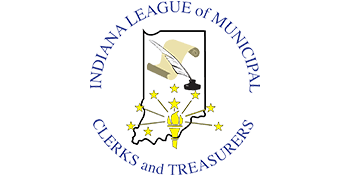 One of the invaluable affiliate groups that Aim works with is the Indiana League of Municipal Clerks and Treasurers (ILMCT). Dedicated to promoting best practices for clerks and treasurers throughout the state, the ILMCT also works with the state legislature to enact laws for the betterment of state and local government.
Aim members will benefit from the ILMCT's educational programs focused on the growth and advancement of clerks, clerk-treasurers, and treasurers. The ILMCT hosts an Institute & Academy each year in March and an Annual Conference in conjunction with the State Board of Accounts School each June. Additionally, they host two District Meetings in the fall.
28th Annual ILMCT Institute & Academy
March 19 – 23, 2023
Horizon Convention Center, Muncie, IN
Join us in Muncie for the 28th Annual ILMCT Institute & Academy where you will spend the week diving into topics focused specifically on the role of the municipal clerk and clerk-treasurer. Attend an abundant lineup of classes for both the novice and advanced municipal official, targeting the subjects necessary for you to grow in your profession. Network with your colleagues and learn from their experiences, while gathering the tools you need to be a powerful part of your local government team.
Hotel Information
Courtyard Muncie at Horizon Convention Center
601 S. High Street, Muncie, IN 47305
(765) 287-8550
Room Rate: $96 per night (plus tax)
The Courtyard is connected by indoor walkway to the Horizon Convention Center. Please contact the Courtyard directly to make your reservation. Request the ILMCT block to receive the special rate of $96 per night (plus tax). Reservations must be made by 5:00 p.m. (Eastern) on Friday, February 17 to receive the ILMCT rate. ILMCT is not responsible for hotel reservations or cancellations. 
Scholarship Information
Scholarships are available for the Institute & Academy. Scholarship applications must be received no later than Wednesday, March 1. Scholarship recipients will be notified of acceptance by Wednesday, March 8.
Athenian Leadership Society Dialogue
Sunday, March 19
Horizon Convention Center, Muncie
ILMCT invites to you participate in a new Athenian Leadership Society Dialogue focused on Year of Yes: How to Dance It Out, Stand in the Sun and Be Your Own Person by Shonda Rhimes. Do you want to know how your leadership can change if you say "yes"? Then join us as we discuss this book; share personal experiences; and learn what it means to have a Year of Yes. We will also review ways to be your own person and join in what is sure to be a lively discussion. This has been preapproved for educational points. A practicum will need to be completed by those attendees seeking IIMC credit. Registration for the Athenian Dialogue is separate from ILMCT Insitute and Academy registration.
2023 ILMCT Dues
By being an ILMCT member, you will have access to a world of information from other cities and towns throughout Indiana. ILMCT exists to provide a network for municipal Clerk-Treasurers and Clerks to promote development through training and information sharing, to encourage sharing of resources and advice among peers, and to advance the profession of Municipal Clerk-Treasurers.
Indiana League of Municipal Clerks and Treasurers Website Policies
(required by Cardholder Associations)
Privacy Policy
The Indiana League of Municipal Clerks and Treasurers acknowledges your trust and is committed to protecting the information you provide us. To prevent unauthorized access, maintain accuracy, and ensure proper use of information, we have employed physical, electronic, and managerial processes to safeguard and secure the information we collect Online. We also automatically receive and record information on our server logs from your browser including your IP address, cookie information and the page(s) you visited. We will not sell your personally identifiable information to anyone.
Security Policy
Your payment and personal information is always safe. Our Secure Sockets Layer (SSL) software is the industry standard and among the best software available today for secure commerce transactions. It encrypts all of your personal information, including credit card number, name, and address, so that it cannot be read over the Internet.
Cancellation & Refund Policy
Event Cancellation received in writing on or prior to the registration deadline will be refunded minus a processing fee stated on the registration brochure. Registration canceled after the registration deadline will not be refunded.
2022 – 2023 Officers
President
Madalyn Sade-Bartl
Clerk-Treasurer
Town of Churubusco
Vice President
Karen Heim
Clerk-Treasurer
Town of Culver
Secretary Treasurer
Nicole Bolden
Clerk
City of Bloomington
Immediate Past President
Jane Jordan
Clerk-Treasurer
Town of Burns Harbor
Contact us
Lesley Mosier
Chief Administrative & Development Officer
[email protected]
317-237-6200 x 223