Indiana Mayors Assistants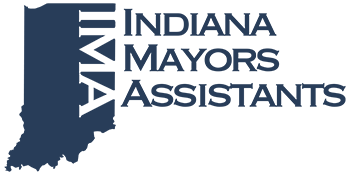 Aim partners with the Indiana Mayors Assistants (IMA) association to provide a network for personnel who work closely with mayors from all municipalities throughout Indiana. The IMA is committed to developing municipal professionals by actively defining the role of mayors assistants in local government and by encouraging members to interact and share information with one another.
Aim members will value IMA roundtables and other training and education opportunities where pertinent topics are discussed in detail. The IMA also hosts a group meeting at the Aim Annual Conference & Exhibition where attendees can network with mayors assistants from across the state.
IMA Annual Conference
April 19 – 21
Bottleworks Hotel, Indianapolis
Join collegues from across the state for the IMA Annual Conference at the Bottleworks Hotel in Indianapolis! The conference will begin on Wednesday, April 19, and end on Friday, April 21. The conference will cover a variety of topics including learning and leadership styles, community paramedicine, team building, youth councils, and sister cities. In addition, inspirational comedian Scott Long will be joining us for a montivational session on Friday morning. 
2022 – 2023 Officers
President
Lori Cheever, City of Monticello
Vice President
Lisa Bower, City of Jasper
Secretary
Lou Ann Hazen, City of Mishawaka
Contact us
Lesley Mosier
Chief Administrative & Development Officer
[email protected]
317-237-6200 x 223