Indiana Municipal Management Association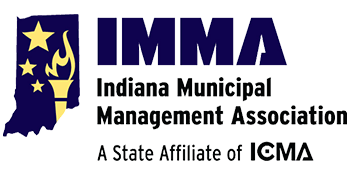 Created to support municipal and county managers and to promote professional local government management across the state, the Indiana Municipal Management Association (IMMA) is a non-profit, non-partisan organization composed of professional local government managers, such as city and town managers, chief administrative officers, and assistant and deputy managers, who share a passion for providing excellent public service and implementing policies that make communities better places to live.
2023 IMMA Annual Conference
Wednesday, April 26 – Friday, April 28
Winona Lake / Warsaw
Hotel Information
Hampton Inn Warsaw
115 Robmar Drive
Warsaw, IN 46580
574-268-2600
Group Name: AIM
Aim Rate: $149 plus tax
Please contact the Hampton Inn Warsaw directly for hotel reservations and request the AIM hotel block.
Reservations must be made by Friday, March 31, to receive the group rate.
IMMA and Aim are not responsible for hotel reservations or cancellations.
IMMA Municipal Membership
Made up of town and city managers, or those performing the same function, IMMA members collaborate and share innovative strategies to creatively address challenges and guide their communities forward.  The Indiana Municipal Management Association is affiliated with the International City Managers Association and prides itself on its promotion of professional growth and development among municipal managers.  Each year IMMA gathers for an annual conference and hosts various webinars and luncheons throughout the year to maintain connections with one another and provide vital educational offerings.
IMMA Corporate Membership
Being a corporate member of the Indiana Municipal Management Association (IMMA) is designed to provide your organization with many unique opportunities. Each member will be able to interact with municipal managers from all around the state of Indiana. These managers are responsible for the operation of municipalities, including economic development, public safety, purchasing, contracts and personnel.
ICMA and IMMA Senior Advisor Program
Senior Advisors are retired City/Town and County Managers with lengthy experience who are respected within the public management field. The IMMA Board of Directors and the Executive Director of the International City/ County Management Association jointly appoint Senior Advisors. Learn more on the ICMA website.
As volunteers, Senior Advisors provide, at no cost career and employment counsel to members; guidance and counsel to members regarding ethics questions or concerns; assistance to town, cities and counties with the managerial form of government; assistance to town, cities and counties that are considering adopting the managerial form of government; assistance to civic groups regarding the managerial form of government; and assistance to members-in-transition with guidance and direction as they seek new opportunities in public administration.
Senior Advisors will provide guidance and assistance once a manager/administrator vacancy has been verified, subject to availability. Services may include: outlining to elected officials the placement process based on ICMA guidelines; determining qualifications, compensation and position requirements; assisting local staff with position advertisements; reviewing and recommending semi-finalist candidates based on desirable manager attributes established by the governing body and providing assistance to the jurisdiction during the interview phase of the placement process. The governing board shall select finalists for interviews.
Background searches on candidates are not included in the services and should be conducted through qualified individuals or firms retained by the city or county.
Senior Advisors are not "consultants" but serve as colleagues and counselors.
Indiana Senior Advisors:
Tom DeGiulio ([email protected])
Tonya Galbraith ([email protected])
2022 – 2023 IMMA Officers
President
Nate Thorne, Assistant Town Manager, Plainfield
President Elect
Pamela Howard, Town Manager, Waterloo
Vice President
Al Geans, Assistant Town Manager of Community Services, Plainfield
Past President
Grant Kleinhenz, Town Manager, Speedway
Northern Regional Director
Tena Woenker, Town Manager, Avilla
Central Regional Director
Will Lacey, Assistant Town Manager, Danville
Southern Regional Director
Chris James, Town Manager, Ferdinand
Aim Board of Directors Members 
Kevin Baity, Town Manager, Clarksville
Mark Morgan, Town Manager, Danville
Contact Us
Erin Jamison-Koenig
Communications Director
[email protected]
(317) 237-6200 x228