Indiana Municipal Management Association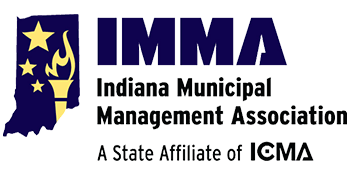 Created to support municipal and county managers and to promote professional local government management across the state, the Indiana Municipal Management Association (IMMA) is a non-profit, non-partisan organization composed of professional local government managers, such as city and town managers, chief administrative officers, and assistant and deputy managers, who share a passion for providing excellent public service and implementing policies that make communities better places to live.
IMMA Municipal Membership
Made up of town and city managers, or those performing the same function, IMMA members collaborate and share innovative strategies to creatively address challenges and guide their communities forward.  The Indiana Municipal Management Association is affiliated with the International City Managers Association and prides itself on its promotion of professional growth and development among municipal managers.  Each year IMMA gathers for an annual conference and hosts various webinars and luncheons throughout the year to maintain connections with one another and provide vital educational offerings.
IMMA Corporate Membership
Being a corporate member of the Indiana Municipal Management Association (IMMA) is designed to provide your organization with many unique opportunities. Each member will be able to interact with municipal managers from all around the state of Indiana. These managers are responsible for the operation of municipalities, including economic development, public safety, purchasing, contracts and personnel.
2022 – 2023 IMMA Officers
President
Nate Thorne, Assistant Town Manager, Plainfield
President Elect
Pamela Howard, Town Manager, Waterloo
Vice President
Al Geans, Assistant Town Manager of Community Services, Plainfield
Past President
Grant Kleinhenz, Town Manager, Speedway
Northern Regional Director
Tena Woenker, Town Manager, Avilla
Central Regional Director
Will Lacey, Assistant Town Manager, Danville
Southern Regional Director
Chris James, Town Manager, Ferdinand
Aim Board of Directors Members 
Kevin Baity, Town Manager, Clarksville
Pete Olson, Town Manager, Yorktown
Contact Us
Erin Jamison-Koenig
Communications Director
[email protected]
(317) 237-6200 x228