Jared Reedy, Aim Hometown Innovations Contributor
The enticing aroma of sizzling corn dogs fills the air at the Bristol Corn Dog Festival, an event which is making its name as a beloved annual tradition for the Bristol community. Every week in Bristol, over 1.5 million pounds of delicious corn dogs are produced by Monogram Foods.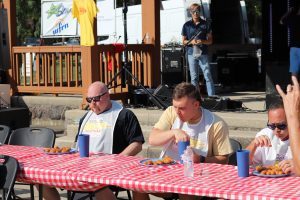 "We produce around 1.8 million corn dogs a day and we produce about 2.8 million mini corn dogs a day," J.C. Kennedy, Operations Manager for Monogram Foods shared.
The inaugural corn dog festival was held last year in September. It was created by Monogram Foods to help establish Bristol as the "Corn Dog Capital of the World" and to bring the community together. Beyond corn dogs and other food offerings, the festival offers a variety of activities that cater to all ages including rock climbing, live music, and other games and contests.
"The corndog festival is an example of a perfect small-town event. An afternoon of family-oriented free games and events, followed by spectacular fireworks at dusk. Last year attendees said it felt like a block party," said Mike Yoder, Bristol town manager.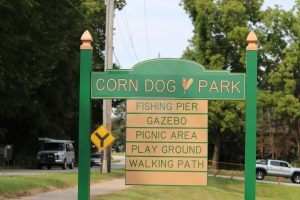 The Bristol Corn Dog Festival is not only a celebration of culinary delights but also a testament to community spirit. The event is sponsored by the Monogram Loves Kids Foundation and proceeds benefit The Hub: Hearts United for Bristol (formerly The Bristol Food Pantry), a nonprofit organization dedicated to bringing "hope, healing and wholeness" to Bristol.
"[The Monogram Loves Kids Foundation] has raised 14 million dollars in the last 12 years," Shaun Pluta, HR representative for Monogram Foods shared. "We wanted an event to give back to our community, highlight Bristol, and to celebrate who we are as a town."
Yoder echoed the company's impact, "[The festival] is a great example of a multi-state corporation focusing on the local community. Monogram Foods is organizing the event, covering the cost of the event, and making a significant financial contribution to a local not-for profit."
Indulge in some tasty treats and take in the festive ambiance at the Bristol Corn Dog Festival with your loved ones! The festival returns to Congdon Park on September 23rd, 2023. Admission is free.