Erin Jamison-Koenig, Communications Director
In the hills of southwest Indiana, you'll find the town of Ferdinand, a charming and picturesque community nestled in the heart of Dubois County. Once known as the wooden shoe village, the town is home to the Monastery of Immaculate Conception, a Romanesque-style church that stands as a testament to the town's strong Catholic tradition.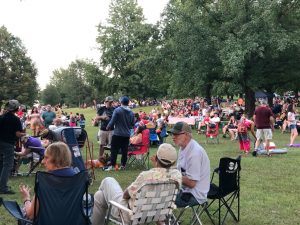 The town's surroundings offer a haven for nature enthusiasts, with nearby parks and recreational areas providing opportunities for hiking, fishing, and camping. Ferdinand State Forest is a popular destination for outdoor adventurers. Visitors and residents alike can also explore the town's charming downtown area, where locally owned shops and restaurants add to its appeal.
Founded in 1840 by German immigrants, Ferdinand celebrates its heritage through annual festivals and events. Held in September, the Ferdinand Folk Festival is a lively and cherished annual event held in the town's 18th Street Park. The music festival, celebrated every year since its inception in 2014, has become a significant cultural highlight for the town and the surrounding region.
The festival draws music enthusiasts and families alike to enjoy a day of live folk and Americana music in a beautiful outdoor setting. According to Ferdinand Town Manager Chris James, "The 13th annual Ferdinand Folk Festival was another tremendous success!"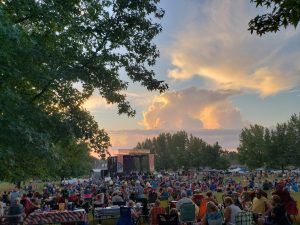 One of the Folk Festival's defining features is its commitment to showcasing both established and emerging folk artists, fostering a sense of community and a platform for musical talent. Attendees can expect a diverse lineup of musicians and bands, performing on multiple stages throughout the day.
The day isn't just about music. The Ferdinand Folk Festival embraces the town's rich cultural heritage, featuring local food vendors, artisans, and craft beer offerings, making it a true celebration of both music and community. "Our food vendors were steadily busy, with three selling out of product early," said James. "The arts and crafts and educational and environmental booths also had a consistent stream of visitors throughout the day."
The festival often includes activities for children, creating a welcoming atmosphere for all generations. With its emphasis on live music, local culture, and a strong sense of togetherness, the Ferdinand Folk Festival has become an annual tradition that unites people from all walks of life, celebrating the enduring appeal of folk music in the heart of Indiana.
James adds that the "2024 Ferdinand Folk Festival is Saturday, September 21, 2024. See you there!"