Chelsea Schneider, Municipal Innovations Specialist, Aim
Alexandria is celebrating the opening of new downtown housing and a grocery store in a project that pays homage to an iconic business in the city.
When long-time Cox's Supermarket closed in 2014, city leaders began looking for a solution for the vacant building. They found their answer in a vision for The Mercantile.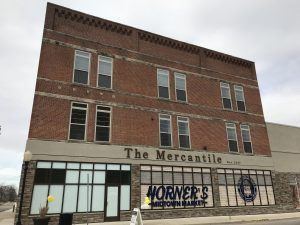 Today, that vision is a reality. The site is now home to 26 affordable housing units and a grocer on the first floor of the building. And the decor intertwines memorabilia from the former Cox store to ensure its legacy remains in Alexandria.
For the city, the project has meant the redevelopment of a large vacant building in downtown and the return of a full service grocery store to the downtown and the community. The Mercantile also serves as an anchor for future downtown development.
"In my opinion, rural Indiana faces a significant risk for the loss of independently-owned grocery stores in the coming decade, which will leave many communities unserved or underserved when they close," said Chuck Heintzelman, principal of the project's developer, Milestone Ventures. "Hopefully, this project will demonstrate that local grocery stores can be attracted to or preserved in rural communities."
The Indiana Housing and Community Development Authority selected the project for its innovation program. That distinction allowed the developer greater flexibility on how funding could be used to accomplish the project, Heintzelman said. Without it, "this project would most likely have never been competitive enough to be funded," he said.
The project is a huge success for the city, Alexandria Mayor Ron Richardson said. Before the opening of Horner's Butcher Block in the former Cox space, the city had been designated as a food desert with just one grocery store.
"The whole project has really excited Alexandria," Richardson said. "We are looking forward to hopefully getting some other businesses into vacant buildings."