Jack Carney, Aim Hometown Innovations Contributor
The City of Lebanon is getting everyone involved when it comes to beautifying the community.
Starting this fall, Lebanon's city government began contracting local artists to paint murals on five separate CSX rail underpasses throughout town. Each artist will create his or her own vision and design but will also enlist the help of community members to complete the art installations.
"With any of these that we're doing, we wanted the public to be along for the ride," Lebanon's Communications and Community Development Director Joe LePage said. "We'd love to help young budding artists that would like to venture down a different path by giving them the freedom to do that and the platform as well."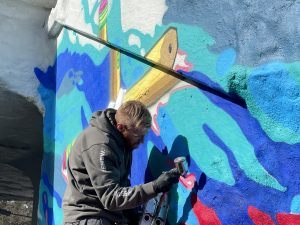 Scott Trafford, a lifelong Lebanon resident, is the artist leading the charge on the first of these murals. His creation titled "Ocean Escape" is underwater themed and will feature a message in a bottle, a purple octopus and a ship with a mast made of two pencils.
"We said we wanted to bring the ocean to Lebanon," Trafford said. "I was just really drawn to the idea. It's got lots of bright, fun colors. It's just got a different take on ocean, and it's very close to an elementary school where lots of buses and school traffic passes by. And I'm like, 'That would be fun for those kindergarteners through fifth graders to see every day, and we can beautify a very plain underpass for a railroad.'"
Trafford began work on the mural in October and hosted the first 'Community Creation Day' on November 6 where about a dozen community members came out to help Trafford paint. He hopes to have the project completed by the end of the year or in early 2022.
To guide the volunteer painters, Trafford printed and distributed copies of the mural design, and then directed them where to paint.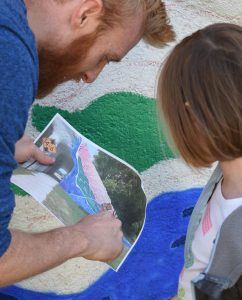 "It's almost like a paint-by-numbers kind of day, and there was a pretty good response for our first one," Trafford said. "We had some families come out, and they really enjoyed it. They get to be hands-on, and then they also get to drive by and say, 'I helped paint that!' They might not have painted the whole thing, but they get the general idea. Like, 'I was a part of that process.'"
Trafford is a self-taught artist who transitioned to a full-time freelancer earlier this year, and since then, the Lebanon native has had no shortage of customers and projects. He's partnered with local businesses, Lebanon High School, the Lebanon Police Department and, of course, the city to complete various types of art installations.
Trafford, whose wife, Katelyn, is an art teacher at Lebanon High School, is passionate about his hometown and wants to spread more art throughout the city.
"Partnering with local businesses and now partnering with the city, it's just been a good flow of creativity that's happening more and more," Trafford said. "We maybe can be a potential catalyst for more art in Boone County and in the City of Lebanon if we just continue on this path."
This goal to add more artwork to the Lebanon landscape is right in line with what Mayor Matt Gentry, LePage and others in city government would like to see.
"The City of Lebanon is using art to engage and instill pride in our community," Gentry said. "We want everyone that lives in Lebanon to love living here. Injecting color and art is making our community stronger."
The city's push for more art installations started in 2019 when Gentry infused 20 fiber glass tigers into the community in honor of the high school's mascot, the Lebanon Tigers.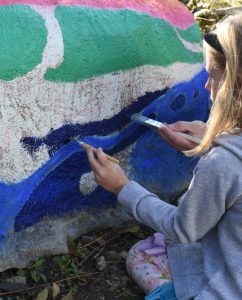 Government officials unearthed local artists to paint the statues which have since been dispersed to locations throughout the city, including at all the schools, in the city building and in downtown areas.
"We kind of got excited about the reaction that folks had to that," LePage said. "And so, it was like, 'What's the next thing? There's a buzz now.'"
The next thing has been the collaboration with CSX to paint murals on the blank canvases that are rail line underpasses, but city officials have even bigger plans moving forward. LePage says that there are hopes to eventually create a cultural district or cultural trail, and he wants to see more and more Community Creation Days in the future where community members can contribute to all sorts of projects, not limited to mural painting.
"Our overall goal is to have not just the paint medium be the only Community Creation Day," LePage said. "We have a lot of folks that do hands-on work – some light manufacturing, some 3D printing. We have a leather shop downtown where folks can actually learn a new skill. It's a fairly creative community that we're realizing, and we want to be able to have folks get out and try something new and have a chance to see that a lot of great things take place in Lebanon."