Jared Reedy, Aim Hometown Innovations Contributor
On October 6th, 1866, at nightfall, the notorious Reno Gang committed the first train robbery on U.S. soil. After boarding the train at the Seymour Depot, three members of the gang broke into an express car, held a watchman at gunpoint, and stole upwards of $16,000. Today, one can find the Reno's story encapsulated in a vibrant mural in Seymour.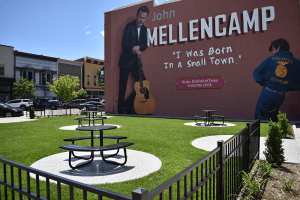 The mural is not hard to find. Located on the side of the Edward Jones building on Chestnut Street, it is a dazzling injection of color downtown. It was commissioned and funded by Seymour Main Street, an organization dedicated to preserving and revitalizing Seymour's historic downtown area. Michael Cooper's team from Murals and More developed a number of ideas for the design, with the final design selected by Seymour Main Street and unveiled to the community in October 2019.
Seymour Main Street chose an all-encompassing concept that celebrates local landmarks, traditions, and history. In addition to the Reno Gang, the mural includes depictions of Seymour's annual Oktoberfest, Freeman Field, and Seymour High School. Images of these locations and events are depicted inside letters that spell out "Seymour." A steaming train juts out through the letters, and the bottom of the mural features the city's slogan: "The Crossroads of America." The project was the first of its kind in Seymour, but not the last.
Appropriately adorning the side of This Old Guitar Music Store, Indiana artist Pamela Bliss' 35-by-52-foot tribute to John Mellencamp has attracted Mellencamp fans from all over Indiana to downtown Seymour. The idea was spearheaded by Larry McDonald, the late former owner of This Old Guitar, and funded by Seymour's Redevelopment Commission
Bliss painted Mellencamp in two stages of his life. In the mural, young Mellencamp's back is turned to us with his hands in the pockets of his Future Farmers of America jacket. The younger version occupies little space in the image compared to older Mellencamp, who leans casually on his guitar. Between the two Mellencamps, a lyric from his 1985 hit reads, "I was born in a small town." Bliss' piece evokes feelings of nostalgia and, simultaneously, considerable growth.
Downtown Seymour's latest mural was finished in September 2021. Seymour Main Street selected Michael Ferrarell of Chicago from a pool of potential artists. The 25-by-40-foot mural on the side of Artistic Impressions is a dedication to Seymour's local businesses of today and yesteryear. A torch stands for The Tribune, Seymour's newspaper. Two cherished local hangouts that have closed, Rok-Sey Skating Rink and Starlite Bowl, are represented by their logos.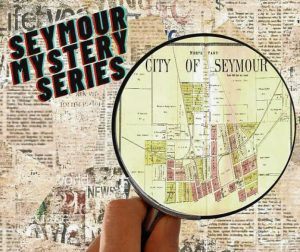 These murals are bursts of energy and color in downtown Seymour, attracting new visitors and pleasing the Seymour community with the interconnectedness of art, education, and hometown pride.
Next month, a new form of celebrating Seymour's story is being introduced. Seymour's Mystery Series encourages kids to explore Seymour with their families and learn about their community's history. Parents can sign their children up by emailing Mayor Matt Nicholson with a mailing address and their child's name and age. Starting March 1st, clues will be sent out each week pertaining to a specific location in Seymour where a mystery is to be solved.
"It will educate them on Seymour's past and fill in gaps of stories they've heard before," according to Mayor Matt Nicholson.
While the initial run is being made possible through promotional materials, Mayor Nicholson is hoping for sponsors for a second series in the fall.