Chelsea Schneider, Innovations Content Manager, Aim
A park in Columbus is being transformed into an ideal habitat for pollinators, thanks to a state grant focused on small, but meaningful quality-of-place projects.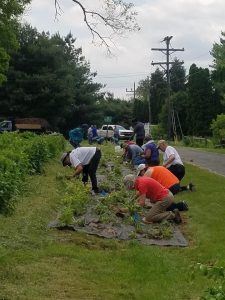 Blackwell Park, known for its naturalized setting, will benefit from trail improvements, new signage – and in a unique twist, the addition of bee hotels. The project is part of an effort to boost interest in the park, with its trails, trees and flowering perennials. And to make it an even better place for local pollinator species.
Native bees, unlike honey bees, live on their own instead of hives. They create nests for their babies in small recesses in dead trees and plants, or in the ground. But those spaces have decreased as more greenspace becomes manicured.
That's where bee hotels can help. They give native bees a safe place to call home.
"Bee hotels are one way to provide some more space for them," said Rachel Kavathe, a Columbus-based landscape architect, who is helping lead the project. "More importantly, it's an educational opportunity for people to learn about native bees and that they need spaces in landscape as well to live."
So what does a bee hotel look like? Typically, they're the size of a birdhouse and filled with small reeds and blocks of wood for nesting. As a nod to Columbus' heritage, Kavathe hopes to work with area schools and community organizations to design the hotels in an architecturally fun way, so they aren't just a typical box.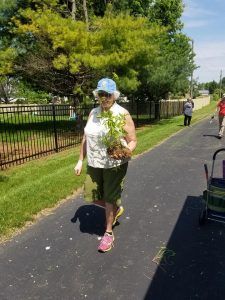 "There is a growing need for people to experience nature, and not everybody has the means or the ability to go to a faraway National Park," Kavathe said.
When updating the master plan for the city's parks, residents were clear. They wanted more trails and natural experiences to compliment the athletic fields and active recreational spaces in the city. The Columbus Parks and Recreation Department partnered with community stakeholders and pollinator supporters to apply for the Quick Impact Placebased Grant from the state. Columbus received $5,000 to use at Blackwell Park.
In April, Lt. Gov. Suzanne Crouch and the Indiana Office of Community and Rural Affairs awarded more than $52,000 to Columbus and 10 other communities through the grant program. Among other projects, Batesville is planning a collaborative mural, and Richmond will install community games in its downtown plaza.
Already, volunteers have planted hundreds of native perennial plants that were donated to the city in Blackwell Park to attract bees and butterflies. The grant will go toward educational signage, so park visitors can learn about the different plant and animal life they'll encounter.
"As you walk the trail right now, you will see the plants. We made sure to plant the pollinators in a space where people would be able to enjoy them," said Stacy Findley, project and resource development director for the city's parks department. "We hope it's just the beginning of many exciting nature and conservation programming, and Blackwell Park is such a perfect place to start."