Jack Carney, Aim Hometown Innovations Contributor
Beech Grove has accomplished something that has been a hope and a dream for the city for a long, long time.
Last month Beech Grove Mayor Dennis Buckley officially opened the Franciscan Trail, the city's first greenway consisting of more than 2.2 miles of walking and biking routes.
At the ribbon cutting ceremony for the trail that took place on April 15th at Sarah T. Bolton Park, Mayor Buckley noted that it's been a long time coming. He had discussed building a trail system with multiple former mayors, including Mayor J. Warner Wiley and Mayor Joe Wright. For reference, Wiley held the office from 1991-2003 and Wright was in charge from 2004-2011.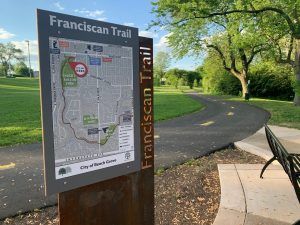 "A greenway system through our beautiful community has been a long-term goal for decades, and I'm proud we were able to come together in a bipartisan way to build a trail that residents will enjoy for generations," said Buckley. "Not only does it connect our parks and boost the overall health of our community, the trail shows off the natural beauty of Beech Grove. On behalf of the community, thank you to the MPO (Metropolitan Planning Organization), the State of Indiana and our project partners for investing in Beech Grove."
The 12-foot-wide asphalt path includes four new bridges and winds along scenic Lick Creek and Beech Creek. The trail begins at the former site of the Franciscan Health Beech Grove Hospital for which it is named. St. Francis Hospital operated in Beech Grove for nearly 100 years. The hospital was dedicated and opened in July of 1914 and was a cornerstone of the community until the closing of all inpatient and emergency services in March of 2012.
"There was an emotional attachment to that building," said Buckley about the old hospital. "When the building was dismantled, that attachment did not go away. And even as late as yesterday, one of the workers on the trail came up to me and said, 'You know what? I was born at that hospital.' That is the emotional connection to that building, and it's still there today. So, it was important as far as I was concerned that the legacy of St. Francis Hospital continue in this city forever. The best way that we can honor St. Francis and continue with its legacy is to do a project like this."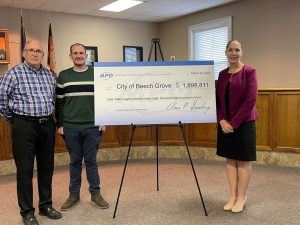 The project is the result of a public-private partnership between Beech Grove, Franciscan Health and Franciscan Alliance, and state and federal agencies. The trail was funded by the Indianapolis Metropolitan Planning Organization (MPO) and the Indiana Department of Transportation at a cost of $2.6 million. Additional support throughout the construction process came from personnel at the City's Parks and Public Works Departments.
After Mayor Buckley spoke at the ribbon cutting ceremony, he turned the microphone over to Anna Gremling, the executive director of Indianapolis MPO.
"At the time of this application, we received over 40 applications, and this project rose to the top. So, we're excited to finally have the project open. Often times it takes years for these projects to happen, and we're excited to be part of it today. The investment of over $2 million from the Indianapolis MPO is only going to make Beech Grove stronger and going to make for a stronger Central Indiana."
Next up to speak was Dr. Jim Callaghan, MD, president/CEO of Franciscan Health. Dr. Callaghan first thanked Mayor Buckley for his determination over many years to accomplish this goal.
"Mayor Buckley is humbly passing along a lot of credit to a lot of other people," Dr. Callaghan said. "But I think we all know that, Mayor Buckley, without your vision and leadership and tenacity for this project over the years, this wouldn't be standing here now. We wouldn't all be here, and so, first of all, thanks to you."
Dr. Callaghan also expressed how honored and grateful the Franciscan community is to have their name attached to the project.
"We are so proud to have our name on this trail," Dr. Callaghan said. "And we're proud that it passes near where our hospital once stood. Our namesake is St. Francis who was a lover of nature. Isn't he happy looking down on us now?"
In late March, the MPO awarded Beech Grove nearly $1.9 million to extend the trail for an additional 1.1 miles. The trail extension will include the areas around Beech Grove High School, Hornet Park Elementary and the Hornet Park Community Center. Beech Grove will have the distinction of being one of the only school districts in the region with a trail system on its high school campus. A timeline for the expansion has not been announced yet.