FRENCH LICK – Gwen Maller, Clerk-Treasurer of Berne, received the 2021 Financial Management Award from Accelerate Indiana Municipalities (Aim). Maller received the award on October 6 during the Presidents' Reception at the 2021 Aim Ideas Summit in French Lick. The Financial Management Award is given to a finance officer or administrator who has made outstanding achievements in fiscal management, financial recording, and leadership in public service.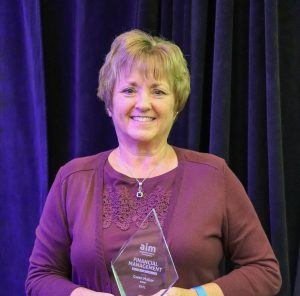 Maller, elected as Berne's Clerk-Treasurer in 1992, was nominated for her impeccable reputation,  willingness to mentor others, and dedication to public office. Maller has the unique ability to work with four different mayors during her time in office and no matter their party affiliation, assure that the citizens always come first.
"Gwen wears many hats for her community and I couldn't be more thrilled to see her hard work and dedication recognized with the Aim Financial Management Award.  Her strong fiscal stewardship and passion for public service are evident in everything she does," said Aim CEO Matt Greller.
In its 45th year, the Aim Annual Awards program, presented by Baker Tilly Municipal Advisors LLC, recognizes communities and individuals in municipal government for excellence and outstanding achievement. A seven-member panel of qualified judges selected this year's winners from a competitive field of nominees from around the state.
Conference Facts:
2021 Aim Ideas Summit
October 5-7, 2021
French Lick Resort
Attendance: 900 (pending final registration count)
Further information: www.aimindiana.org
Since the 1890s, Aim, formerly the Indiana Association of Cities and Towns, has been an advocate for Indiana municipalities.  Aim is the official voice of municipal government in Indiana, with more than 460 cities and towns as members.  Our purpose is to foster, promote and advocate for the success of Hoosier municipalities as laboratories of innovation, hubs of talent and the engines driving our state's economy.