Chelsea Schneider, Innovations Content Manager, Aim
Bloomington is partnering with a non-profit to increase access to solar power for lower-income families.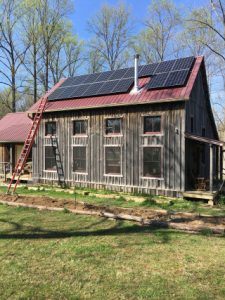 Through its work with Indiana Solar for All, homeowners gained access to grants for install rooftop solar systems. In all, eight projects were completed in 2018 for residents with fixed or limited incomes, with 12 installations expected in 2019.
"As they have for decades, the latest reports on climate change confirm the need for our continued efforts to limit the generation of greenhouse gasses," Bloomington Mayor John Hamilton said. "The city is committed to reducing our collective impact on global temperature rise, and commends (Indiana Solar for All) for leading the charge to help more households participate in this effort."
Indiana Solar for All was founded to accelerate the transition to renewable energy and to make access to it more equitable. Initial funding came from the Solarize Bloomington campaign, an initiative jointly sponsored by the city of Bloomington and the Solar Indiana Renewable Energy Network. Solarize is a group-buy arrangement that reduces prices for all participants through negotiated volume purchases. It also reduces marketing costs for install partners, who pass on part of their savings as a contribution to Indiana Solar for All.
More than 180 homeowners have installed over 1.2 megawatts of solar capacity via the City's Solarize Program, equivalent to the energy used by 120 average homes. Solarize Bloomington is continuing this year with open registration at tinyurl.com/SolarizeBloomington2.
"The price of solar installations has dropped dramatically in recent years, yet people with fixed or limited income still cannot afford to buy in, and typically do not qualify for the federal renewable energy tax credit," said Stephanie Kimball, director of Indiana Solar for All. "These people are the most vulnerable to electric rate increases because utility bills are a significant part of their expenses. Yet with assistance from Indiana Solar for All, they are enabled to contribute to the community by installing their own systems."