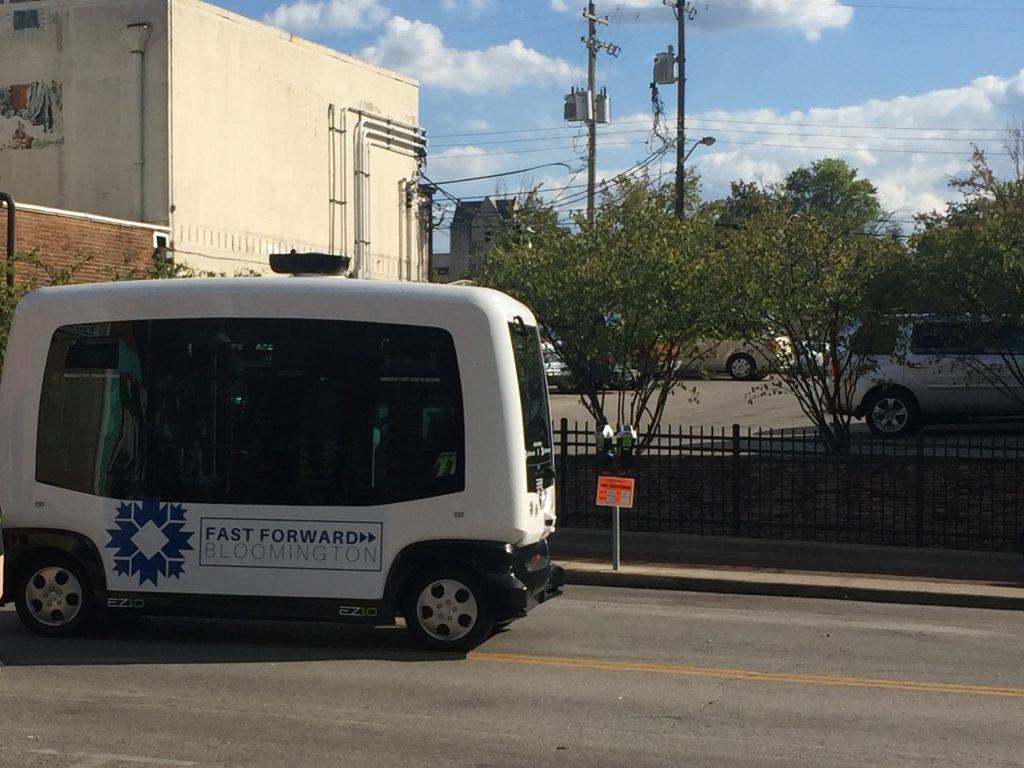 Chelsea Schneider, Municipal Innovations Specialist, Aim
When a driverless bus rolled down a Bloomington street in September, city leaders believed the event marked the first public demonstration of an autonomous vehicle in Indiana.
As the technology emerges, Hoosier cities are among the frontrunners in studying how autonomous vehicles will affect Indiana. They're also preparing for the day the cutting-edge transportation mode is part of everyday life in their communities.
Along with what's happening in Bloomington, West Lafayette city leaders are working with Purdue University to take an in-depth look at the equipment required to host driverless vehicles on public roadways. Most of the technology remains on the drawing board, but given the number of vehicular accidents and the safety benefits autonomous vehicles pose, preliminary discussions among city leaders and researchers are for the public good, West Lafayette Mayor John Dennis said.
"It's not just the wave of the future," Dennis said. "From a humanity perspective, it's almost an obligation to look into this."
Dennis and university officials are exploring what it would take to install transmitters and receivers to support the technology. Right now, West Lafayette has technology that allows for the sequencing of traffic lights from a remote location. Essentially, autonomous vehicles take that technology to the next level, Dennis said, where the receiver isn't a traffic box – it's a car.
In Bloomington, Mayor John Hamilton initiated the bus demonstration as a way to explore how the city can use advanced technology to improve mobility. The event featured an EZ10, an electric model by French-manufacturer EasyMile that can be adapted to complement existing public transportation systems. The demonstration also launched the city's Fast Forward Bloomington initiative, which will offer a series of events focused on cutting-edge technology.
"Driverless buses will certainly be in our future, so we're excited to be the first city in Indiana to have a public demonstration of this up-and-coming technology," Hamilton said. "Technology changes the world every day and Fast Forward Bloomington experiences will give folks a hands-on feel for what's coming our way. It's important for our city to get a glimpse of our transportation future because we need to be planning for it now."
The bus model demonstrated at the event could be used for campuses, entertainment complexes and elderly care facilities. It also boasts a top-notch safety record, thus far logging more than 100,000 miles in 18 countries without a single accident, according to data shared by the city. Seeing the vehicle firsthand gave city officials a real-world look into how autonomous technology could supplement or augment public transportation services.
"I don't think there is a question that it's coming," Bloomington Transit Director Lew May said. "It's just a matter of time before it's going to be commonplace in our transportation environment in our cities. Maybe one of the best comparisons I can give you is that 75 years ago most elevators had operators in them, and today all elevators are essentially driverless."