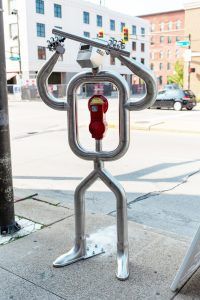 FRENCH LICK – Accelerate Indiana Municipalities (Aim) announced Fort Wayne has been awarded an Aim Community Program Innovation Award for their Meters with a Mission project. The city was honored with this award on October 6 during the Annual Awards Luncheon – presented by Baker Tilly Municipal Advisors, LLC during the 2021 Aim Ideas Summit in French Lick. Fort Wayne won in the greater than 100,000 population category.
Fort Wayne's retired parking meters are now being used for a new purpose: helping local nonprofits weather COVID-19. Twenty-seven Meters with a Mission are installed across downtown Fort Wayne to collect donations from the public. The City of Fort Wayne and Greater Fort Wayne, Inc. found businesses to adopt a meter and select a nonprofit to benefit from the donations. Some companies offered to match the donated funds up to a designated amount. Each meter was decorated with designs by the sponsoring organization or non-profit, along with signage indicating the beneficiary and sponsor for that meter.
Aim CEO Matt Greller proclaimed the Fort Wayne Meters with a Mission effort one of the most creative community projects to result from the pandemic.  "What a fun, fantastic way to raise funds for service organizations.  This engaging project combines so many quality of place components and just leaves people feeling great about the city.  The pandemic has been such a drain on everyone, it's nice to highlight initiatives like this one, focused on the needs of so many worthwhile organizations," said Greller.
Conference Facts:
2021 Aim Ideas Summit
October 5-7, 2021
French Lick Resort
Attendance:  1,000 (pending final registration count)
Further information: www.aimindiana.org
Since the 1890s, Aim, formerly the Indiana Association of Cities and Towns, has been an advocate for Indiana municipalities.  Aim is the official voice of municipal government in Indiana, with more than 460 cities and towns as members.  Our purpose is to foster, promote and advocate for the success of Hoosier municipalities as laboratories of innovation, hubs of talent and the engines driving our state's economy.