Chelsea Schneider, Municipal Innovations Specialist, Aim
An innovative school and new technology for students. The revitalization of a key street to establish a downtown area. New trail segments to connect thousands of more households directly to recreational opportunities.
Those are ways the town of Clarksville is benefiting from the local economic development tool of tax-increment financing. This month, the town's Redevelopment Commission voted to renew a program to send $400,000 a year for the next three years in TIF funding to the town's two school districts. The funding will be used to purchase technology for students.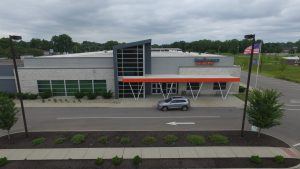 Funding for technology is just one way the town has invested in education with TIF. Earlier, the town played an integral role in establishing a new school, Renassiance Academy, which follows the new tech model where students learn collaboratively and focus on problem solving.
"The benefit of it is we are making a direct investment in our future, and we hope that those students don't just grow up in Clarksville but stay in Clarksville and become tomorrow's leaders," said A.D. Stonecipher, president of the Redevelopment Commission.
The Renassiance Academy helped restore a struggling retail corridor of the town, and has spurred new investment including a new gateway park – a popular site for community festivals – and little league fields.
"(The school) is an attractive anchor of activity within what once was a very desolate and not attractive portion of our community," said Dylan Fisher, Clarksville's redevelopment director. What's more, Fisher said, the school draws portions of its student body from outside of Clarksville. Hopefully, those students "one day decide to move to our community," he said.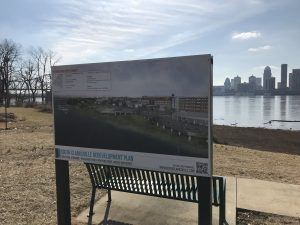 Along with its educational benefits, TIF is helping Clarksville with its plan to redevelop a prime area near the Ohio River. Clarksville currently lacks a downtown, and town leaders are launching a project to revitalize infrastructure near the river to establish a walkable, urban destination. That includes upgrading a street to connect the town's iconic clock – currently atop a former factory – with the river. The street will feature single-lane traffic, separated cycle track and sidewalks, and on-street parking, along with aesthetic features. The project also will modernize the street's floodwall.
"It's big for us to revitalize this area. It's significant for residents in our community. We are trying to create a downtown where Clarksville lacks a downtown," Fisher said. "Most communities across the country and across the state are seeing major success in downtown revitalization and increases in civic pride because of it."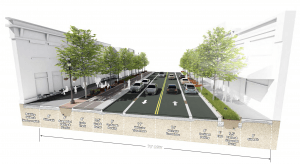 Adding to plans for downtown, Clarksville also is spearheading a project to turn a former rail corridor into a bike/pedestrian trail. The project aims to increase access to the popular recreational amenity and should kick off this year or in 2019.
"TIF brings immediate pride to the community," Stonecipher said, "and it also allows you to keep an eye on your economic portfolio and diversify that."