Chelsea Schneider, Aim Municipal Innovations Specialist
The average social media user has grown accustomed to seeing fundraising campaigns that rely on crowdfunding, a strategy where online contributions are collected from as many donors as possible to support a cause.
Now, a new state program is prompting communities to latch onto the popular tool to support public projects.
The program, CreatINg Places, gives local government and non-profit leaders a way to directly appeal to donors through the crowdfunding platform Patronicity.com. Think of it as a crowdfunding site with a civic twist. The program focuses on raising funds for public amenities, such as park improvements, bike paths and farmer's markets.
And it comes with a unique perk. If fundraising goals are met, the Indiana Housing and Community Development Authority will match donations up to $50,000 a project.
Since the program's launch last year, five Indiana projects have raised nearly $200,000.
In Gary, leaders are raising funds to launch a historic preservation tour of the city's downtown. In South Bend, funding would go toward transforming an unused space into a new plaza featuring a civil rights monument. Other projects using crowdfunding are in Indianapolis, Greensburg and Wabash.
Gary wants its programming to reflect the city's incredible history, said Joe van Dyk, the city's executive director of planning and redevelopment. Coupled with a need for historic preservation, city officials are hoping to lead tours of some of Gary's most beloved sites, including Union Station and a New Deal-era post office.
Project organizers think the crowdfunding campaign will give a diverse group of people collective ownership of the end product, van Dyk said. The goal is to raise $7,500 by mid-March, so the tours can occur this summer. The funds will go toward securing abandoned buildings and branding the downtown as a nationally registered historic district.
"I'm optimistic because, again, I really like the idea of everyone sort of sharing in the successes and sharing the project," van Dyk said.
The state saw the success Patronicity.com projects were having in Michigan and Massachusetts and decided to bring Indiana on board, said Brad Meadows, a spokesman for the Indiana Housing and Community Development Authority. The agency provided $1 million to match locally-raised funds.
To qualify, projects must have at least $10,000 in development costs, so a local project would need to raise a minimum of $5,000 to receive the state match. A typical campaign runs between 30 to 60 days.
Crowdfunding is a game-changer in how the state can fund community or place-based projects, Meadows said. Traditionally, local groups would send in a request to the state, and the project would receive funding without a true indication of whether it was something the community wanted or needed. Residents now have a chance to say: "Hey, I want this," Meadows said.
"Generally, it's the municipality saying, 'We are doing this,' and then one day you drive down Main Street, and there's a new pocket park. A lot of time there is disconnect between how these programs come about," Meadows said. "I think the importance of this is that the community has a voice, and if they want this project, they fund it."
Patronicity began in Detroit in 2013 and has expanded from there. Veronica Watson, the platform's director of Indiana operations, tells prospective users that crowdfunding isn't like your typical town hall meeting where the same residents show up and the same debate occurs.
"This is a great way to involve new people in the process," she said.
Communities have the option of running an "all-or-nothing" campaign, where they only receive their funds if they meet their campaign goal. Or they can run a partial funding campaign where they keep what they raise, even if they fall short of the goal. Either way, projects only receive the state match if they meet their goal before the campaign's deadline.
So far, all of Indiana's projects have met their target. Overall, the program has had a 99 percent success rate across its matched programs in Michigan, Massachusetts and Indiana.
Main Street Greensburg crowdfunded to increase the amount of public art in the city and for other streetscape projects, including benches, wayfinding signs and trash cans. Indianapolis-based Harrison Center for the Arts will run a Pre-Enactment Theater, a project that will reimagine a three-block stretch defined as the "Monon 16 neighborhood."
Wabash community leaders raised $82,000 for a project to connect the Wabash River to the city's downtown. The project by downtown development organization, Wabash Marketplace, Inc., will convert unused public space into a plaza. The space will offer outdoor recreational activities, including a new outfitters store where visitors can rent canoes, kayaks and bicycles. Seating areas near the riverfront also are part of the project.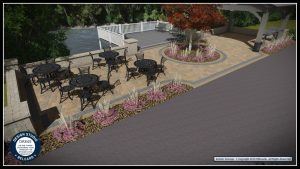 At first, project organizers were unsure whether the community would take to a crowdfunding approach, said Jordan Tandy, a committee member with Wabash Marketplace. But Patronicity became a good selling point, he said, with the project bringing in $30,000 over its goal.
"It exposed us to a bigger market than just the typical going around to every company in Wabash and every Kiwanis and Rotary Club," Tandy said. "It broadened our horizons a little bit and made us think a little differently about how to raise the funds."
To learn more, visit www.patronicity.com/creatingplaces.