Chelsea Schneider, Innovations Content Manager, Aim
Crawfordsville Mayor Todd Barton set out with an innovative vision – fusing together the different growth entities serving the city and housing them under one roof.
Today, that vision is a reality with the opening of Fusion 54. The building houses business, leadership, downtown development and education officials – all working to make Crawfordsville and the greater Montgomery County area a vibrant place to live and do business.
And the city isn't alone. Across the state, mayors and town leaders have launched projects to bring collaborative spaces that pair municipal functions with the greater community. In Rushville, City Hall will soon share a building with a movie theater and Ivy Tech Community College location. In Zionsville, town leaders launched a project to combine municipal offices with the local chamber of commerce, senior services and an expansion of a popular entrepreneurial center.
"We came to the realization that we had a lot of really good entities, non-profits for example, out in our community trying to do good things, but they were kind of siloed off," Barton said of the Fusion 54 project. "They were all in different places and trying to go in their own direction. There wasn't a lot of coordination and cooperation between those entities. We really had this thought of bringing them together and increasing that cooperation."
So, Fusion 54 was born.
The city leveraged tax-increment financing dollars to renovate a building on a prime corner of downtown. Currently, Visit Montgomery County, Montgomery County Leadership Academy, Crawfordsville Main Street, Wabash College and the Crawfordsville-Montgomery County Chamber of Commerce all have offices in the building. The facility also hosts the F54 Co- Working Studio.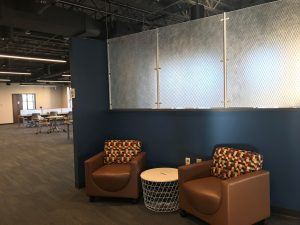 Ultimately, Fusion 54 is an investment in the city's future, Barton said. The project aims to change the way Crawfordsville shapes its workforce by bringing together emerging talent and key community leaders. The building also features an experimental theater to foster creativity.
Already, the project has created a huge ripple effect, by serving as a physical reminder that the community is united, said Rick Hernandez, executive director of the Crawfordsville-Montgomery County Chamber of Commerce. It's bringing entities together and metaphorically tearing down walls, so they can better collaborate.
"It seems like everyone is getting on board, on the same train to go to the same destination," Hernandez said.
The synergy and partnerships forged at Fusion 54 sets the space apart.
"We all have passion for the community and making it the best it can be," said Lynn Ringis, executive director of the Montgomery County Leadership Academy. "It's bigger than the city. I think our mayor has been instrumental in making this a countywide project. It almost feels like instead of having Crawfordsville and all these little towns, it feels like Montgomery County is becoming one big community, which give us a bigger resource pool and more talent."
And word is getting out on the project.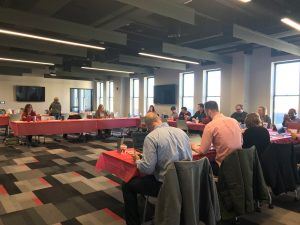 Fusion 54 is getting a lot of use, Barton said, averaging 50 to 70 events a month.
For municipal leaders exploring similar projects, Barton says time and patience is important.
Bringing diverse entities together isn't always an easy process, he said, especially if they're established at their current location.
"You really have to challenge them and your community to raise the bar," he said, "and go to the next level."