Chelsea Schneider, Municipal Innovations Specialist, Aim
A new park under development in Crown Point will serve to transform and connect the city's downtown by offering a year-round destination for events, with Bulldog Park featuring an amphitheater, splash pad and regulation-size hockey rink.
Mayor David Uran joined city and business leaders in May to break ground on the park near Crown Point's popular downtown square. The project also will include a 16,000-square-foot event building.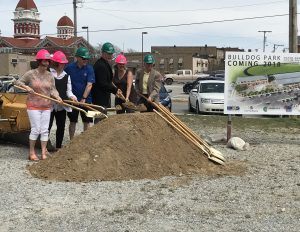 "Our downtown is our lifeline of our community," Uran said in addressing the large crowd gathered to kick off construction of Bulldog Park.
Bulldog Park is supported by private donations and tax-increment financing, a local economic development tool. TIF allows the city to direct revenues from increased commercial property values to strategic community projects. In turn, Bulldog Park will work to preserve, protect and enhance property values for the entire city of Crown Point, Uran said.
Currently, Crown Point hosts most community events on the downtown square, which requires traffic closures on busy streets. Once open, Bulldog Park will become the central location for those events, including performing arts, car cruise-ins and farmers markets.
"We're going to have something for everybody in the city of Crown Point," Uran said, "whether if you live here, work here or just come here to play. This is going to be an attraction for this community."