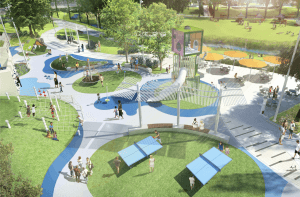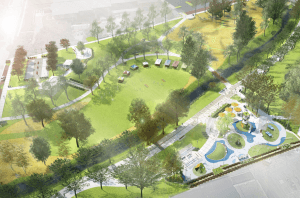 Chelsea Schneider, Innovations Content Manager, Aim
Greenwood leaders are reimagining one of the city's most historic and storied public spaces.
And the plans unveiled by Mayor Mark Myers for Old City Park will make it a one-of-a-kind destination. The centerpiece of the project is a custom-designed 20-foot cube tower, which will be the first of its kind in Indiana.
The cool amenities don't stop there. The park also will feature: a promenade running adjacent to the park's creek, a custom climbing wall and net, a new pedestrian bridge, urban porch swings, and a bocce court.
"This transformation will impact Greenwood for decades to come," Myers said. "Old City Park will once again become a central cornerstone of Old Town, with connectivity to the Greenwood Amphitheater and Craig Park, the soon-to-be-developed, 19-acre middle school property, Greenwood Public Library, the new Madison Avenue trail and more. It will serve as an example for future generations of what's possible for our great city."
Park improvements also show Greenwood's dedication to linking economic development to quality of life, Myers said.
"We must demonstrate that we understand the changing needs between a young professional looking for their first apartment, a new family searching for a safe place to raise their kids, and a retired couple wanting to downsize and spend their weekends walking around Old Town before meeting friends at Vino Villa," Myers said.