Chelsea Schneider, Municipal Innovations Specialist
A high-traffic area in Downtown La Porte is now home to an innovative plaza, after community leaders combined efforts to tear down a blighted former department store building.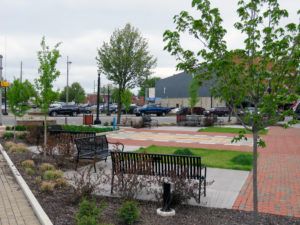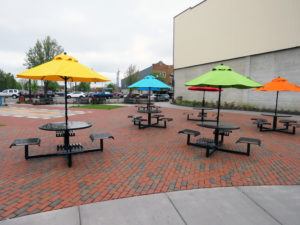 Plaza 618 is a public gathering place, envisioned to provide live entertainment and a spot for downtown visitors to sit and relax. In a unique twist, the project also features a rain garden and electric vehicle charging stations.
"It was designed for people wanting to come spend time downtown beyond shopping at different businesses," La Porte Mayor Blair Milo said during her 2017 State of the City speech.
Not only is Plaza 618 a fun gathering space, it's also a "super-restaurant," Milo said.
"An increase in demand for outdoor dining but limited sidewalk space provides a unique solution for downtown restaurants and patrons where all of the downtown restaurants will deliver to the plaza," Milo said.
Milo said the project is still in the growth stage, with donations coming in to add new elements to the site in the heart of downtown. But because of community partnerships, the city won't have to tap into its general fund for the plaza.
Already, the plaza has become a focal point for the community, including playing host to an ALL-IN Block Party to celebrate Indiana's Bicentennial in 2016.
Supporters of the project include the city, the Downtown La Porte Main Street Association, La Porte Urban Enterprise Association and Indiana University Health La Porte Hospital.
The plaza capitalizes on other growth occurring in downtown, including facade improvement grants run by the Urban Enterprise Association.
Altogether, the projects are part of Milo's strategy to answer a question facing all local government leaders: "How do we learn faster and govern smarter?" Fostering a nimble form of government is critical to a city's growth.
"It is so critical for us to adapt and grow and move at a quicker pace," Milo said.