Chelsea Schneider, Municipal Innovations Specialist, Aim
More and more, Hoosier cities and towns are embracing drone technology, as a way to capture unique aerial footage and improve the quality-of-life of communities.
In Greenwood, John Shell is a project manager for the city's engineering department. But he also wears another hat. Shell is Greenwood's drone pilot.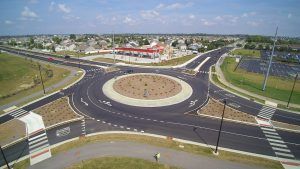 After becoming licensed by the Federal Aviation Administration, Shell has paired the drone's capabilities with a variety of city tasks. The drone has taken flight to capture attendance counts at city events. Its footage has been used to create a video to show motorists how to navigate a new roundabout. And the drone even helped the Indy South Greenwood Airport gauge tree trimming.
Greenwood is just one example of a community using drones to enhance city services. Other cities have used their drones for animal control purposes – and to even launch a new community event.
"It gives people a totally different viewpoint when you use it for marketing than if you're standing on street level to photograph," Shell said. "It lends a little bit of excitement."
In Mishawaka, the city struggles with a Canadian Geese overpopulation in its parks. So the city partnered with biology and engineering students at Mishawaka High School to devise a strategy to clear geese before community events. The students recorded predator noises on a MP3 player and designed 3D parts to mount on the drone.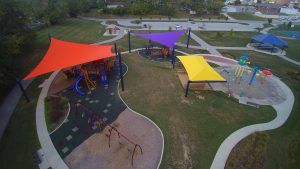 "Since then, we utilize the drone for a variety of missions," Mishawaka Mayor David Wood said. "Our Parks Department is still the biggest user, flying them for video footage recording missions for parks and park events for promotional purposes."
In New Albany, the city is preparing to host a drone race along the Ohio River for a second year. For its inaugural year, the New Albany Cup drew drone enthusiasts and spectators to the riverfront for a day of races and demonstrations.
"It was a great day. I can't tell you how supportive these folks were, the fans who came to the riverfront and applauded the races," New Albany Mayor Jeff Gahan said. "It was a perfect day and a perfect scenario to learn and watch drones racing."
Aside from the event, the New Albany Police Department is identifying certain officers to become licensed pilots, Gahan said. And public works officials have used drones for aerial photographs to help city leaders with planning and zoning decisions.
Adding to the practical uses, Greenwood will fly the city's drone this spring to chart a creek for storm water purposes.
The use of drones also signals a broader direction for the city. Greenwood Mayor Mark Myers is innovative and tries new things, Shell said.
"It opens it up for employees to try to be innovative in our jobs, too," he said. "To make it a better community for people to live in."
 Top drone facts
In 2016, the National League of Cities released a primer for municipal officials on drones. Indiana law also speaks to drones as "unmanned aerial vehicles."
Here are top takeaways:
Drones are treated as aircraft by the Federal Aviation Administration and are subject to federal regulations. There are four primary categories of operators: Part 107 Remote Pilots, Model Aircraft Operators, Public Operators and 333 exemption.
The majority of operators are Part 107 Remote Pilots. These operators are 16 years and older and have passed an FAA test and TSA background check. Once those requirements are completed, operators can use drones recreationally and commercially as long as they follow certain regulations.
Public agencies and operators who use drones for governmental purposes fall under Public Operators – but they also have the option of applying under Part 107. To continue as a Public Operator, a Certificate of Waiver or Authorization must be obtained from the FAA.
Drones weighing over half a pound and that can be flown outside must be registered with the FAA before use.
Indiana law primarily speaks to when law enforcement must obtain a search warrant to use "unmanned aerial vehicles."
Source: National League of Cities, Indiana law