Chelsea Schneider, Municipal Innovations Specialist, Aim
The National League of Cities this week released its annual review of mayoral priorities, with economic development leading as the most prevalent major policy issue in 2018.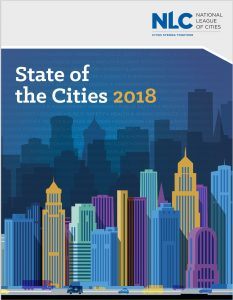 The report analyzes topics mayors discuss in their annual State of the Cities addresses to determine nationwide trends. Economic development has topped the priority list for the five years National League of Cities has conducted its review, with 58 percent of mayors discussing the issue at length in their 2018 address. Mayors discussed downtown development, along with jobs, business attraction and retention, and innovation. Just behind economic development was infrastructure with 56 percent of mayors having significantly covered the topic.
The report also found three critical issues trending across the United States, including opioids, broadband access and climate change. On opioids, 2018 mayoral speeches, "revealed a more explicit focus on the responses cities are implementing to address this public health crisis." Those include harm reduction strategies, specifically the use of the overdose-reversing drug, naloxone.
Among other findings, the report delves into a series of subtopics, with roads-streets-signs leading in the Midwest. Public safety, parks and recreation, and water-sewer-waste infrastructure also were among the region's priorities.
The 2018 report reflects 160 speeches, including nine from Indiana. Beech Grove, Fort Wayne, Greenwood, Mishawaka, Rushville, South Bend, Valparaiso, Warsaw and Washington were among the cities reviewed.