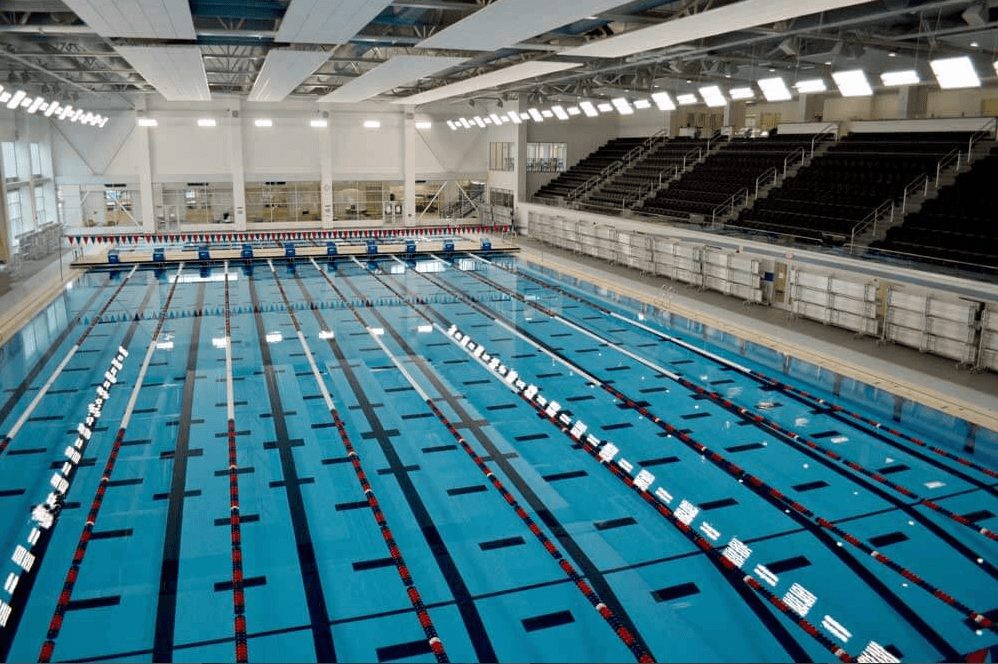 Jack Carney, Aim Hometown Innovations Contributor
Seven years ago, the Elkhart Youth and Community Center – formerly the Elkhart YMCA – closed permanently. Community leaders knew they needed to provide a replacement. A massive project ensued, and this replacement structure has not only been an upgrade, it's been what Mayor Rod Roberson calls "transformative."
The Elkhart Health and Aquatics Center – a state-of-the-art 170,000 square foot facility that includes an Olympic-size competition pool with a diving well, recreation and therapy pools, a fitness center and a community center – opened its doors in 2019.
"It is one of the best facilities in the Midwest hands down," Roberson said. "If not the best."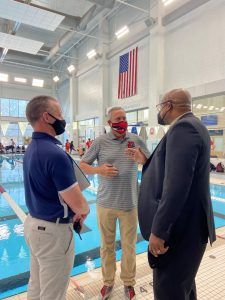 The center provides all the things a typical YMCA would for the community – a fitness area, basketball courts, swimming pools, locker rooms, etc., but there's more.
For example, Beacon Health System, a regional non-profit hospital system, manages and operates the facility. With Beacon's involvement comes sports medicine and physical therapy offerings. The center will typically have one of three rotating physicians available on site.
Additionally, the Olympic-size pool, diving well and adjoining spectator area that holds 1,200 people has given the center the ability to host major swimming and diving competitions. In fact, the venue has hosted two major collegiate competitions over the past month.
In February, the Great Lakes Valley Conference (GLVC) Men's and Women's Swimming & Diving Championships were held at the Aquatics Center. Ten men's teams and nine women's teams converged in Elkhart and competed at the event, and Mayor Roberson estimated an average of 400 spectators were in attendance each day.
"It was wonderful to see people come in in and enjoy Elkhart for the very first time," Roberson said. "And that, to me, is why this particular building is transformative. We didn't have that before. It was a local YMCA, and it catered to a local clientele. This allows us to expand."
This past weekend – March 10th-12th – an even bigger event came to town. The College Swimming & Diving Coaches Association of America hosted its National Invitational Championship at the Elkhart Health and Aquatics Center. This competition brought approximately 750 athletes from up to 50 colleges and universities from across the nation.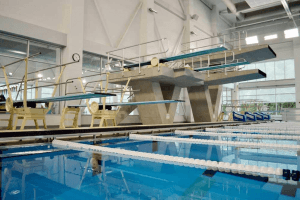 This influx of visitors serves as a great boost to the local economy during an otherwise light part of the calendar. Mayor Roberson noted that Elkhart hotels are pretty booked up during Notre Dame football season, but reservations typically drop to 20-30 percent of capacity during the winter months.
"Here we are with two weekends, one in February and one in March, where we'll have 85-90 percent of our hotel capacity booked, and that is just wonderful," Roberson said. "The downhill economic relationships with our small shops, our eateries, our activities that are in and around the River District is just full and vibrant."
Mayor Roberson said the exact economic impact dollar amounts are difficult to pinpoint, but the Elkhart Health and Aquatics webpage forecasts a potential $4.7 million impact annually based on 20-21 event weekends per year.
"This will continue to happen over the course of, hopefully, years to come," Roberson said. "And building a robust hospitality relationship is a part of this as well. I'm consistently on the phone with the Elkhart Conventions and Visitors Bureau, and we're talking about the events that are on the way because of this kind of amenity. It's a wonderful springboard into what Elkhart is going to become."
Roberson added that the facility has inspired other investments into Elkhart's River District including a small boutique hotel, a mixed-use retail and residential structure and a few other upcoming builds. He noted that Elkhart is making progress in other areas, too – Amazon is building multiple distribution centers in town and The Wallstreet Journal recently ranked the Elkhart-Goshen area as the No. 1 emerging housing market in the country.
"There are a lot of positive things to say about how we create livability and how we make sure that Elkhart is a place that attracts people to come and stay and want to enjoy themselves inside of our community," Roberson said. "And, quite frankly, this Aquatics Center is at the top of the list."
The facility was, of course, a very significant financial investment itself. The original cost was projected at $32 million but grew to a price tag of nearly $72 million. The project came to life thanks to multiple funding partners, including the Community Foundation of Elkhart County, The City of Elkhart, Elkhart Community Schools, Beacon and almost $30 million in philanthropic donations. The South Bend Tribune concluded that the center became likely the largest capital campaign ever done in Elkhart County.
Based on early returns and projections into the future, this big investment seems to be paying off in a big way.