Jack Carney, Aim Hometown Innovations Contributor
Fishers – a city that strives to be at the forefront when it comes to innovation and modern solutions – has achieved a first of sorts in transportation technology.
In December, the Hamilton County town partnered with May Mobility, a leader in autonomous vehicle (AV) technology, to install a free, public AV shuttle service. Fishers will be May Mobility's ninth shuttle deployment since the company began operations in 2017, but it serves as the very first suburban host area.
"With our commitment to innovation, technology, and entrepreneurship, it was a natural fit for Fishers to serve as the first suburban site for May Mobility's autonomous vehicle fleet," said Fishers Mayor Scott Fadness. "Our Nickel Plate Cultural District is the perfect test site for this technology as our partners identify the nuances of a suburban environment for autonomous technology."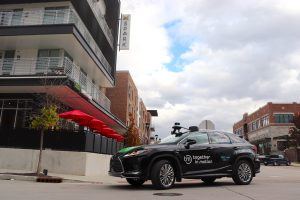 May Mobility representatives are excited to introduce their transportation product to a suburban environment.
"We have operated in other cities, but this is a very unique use-case for us," May Mobility customer success manager Fawna Tucker said. "There are no other forms of public transportation and no other micro-mobility options in the city. So, you're definitely looking at heavy personal vehicle use, kind of an interesting age bracket, lots of schools, et cetera. So, there are definitely some interesting things that Fishers is bringing to the table here."
This transportation program represents the second stage of the Together in Motion Indiana initiative that began with a similar shuttle service around downtown Indianapolis. The free Indianapolis shuttles operated from June to November last year, while the Fishers operation started in December and will run for six months.
Other partners including the Toyota Mobility Foundation, Energy Systems Network and the Indiana Economic Development Corporation have come together with May Mobility to bring this vehicle system to Central Indiana.
"Indiana continues to be a place for advancing autonomous transportation solutions and partnering with the City of Fishers as our next city to deploy the May Mobility autonomous shuttle service is a perfect fit," said Paul Mitchell, President and CEO, Energy Systems Network. "Public-private partnerships like this one only strengthen the goal of providing mobility options for all residents."
In Fishers, May Mobility's fleet consists of six autonomous, shared vehicles that travel along a three-mile loop with nine stops around the Nickel Plate Cultural District.
The shuttle not only provides Fishers residents with a public transportation option, it also aims to be an environmentally-friendly project by minimizing carbon emissions. The free service will feature five hybrid Lexus RX 450h vehicles and one wheelchair-accessible Polaris GEM fully electric vehicle.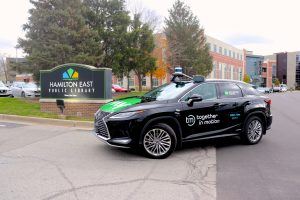 The vehicles are available Monday through Friday from 8:00 a.m. to 8:00 p.m. with cars arriving every 10 to 15 minutes on a rotating loop. Riders can see live updates of the vehicle locations on the Together in Motion Indiana website.
For the Fishers deployment, May Mobility is collecting and analyzing three data sets as the project unfolds: vehicle data to evaluate the performance of the technology, stop data to see where riders are going and coming from, and rider survey results.
"So far on that survey, we haven't had a ton of responses, but we have received five stars across the board for rider rating," Tucker said. "The feedback's been incredible. Just really good feedback based on the autonomy performance, like: 'This is really useful for me. I'm getting to where I need to go.' And we are seeing really high numbers of riders in a couple different areas of the city."
According to the ridership data thus far, heavy rider traffic is coming from the residential areas of Pullman Pointe and South Pointe Village apartments headed to downtown Fishers or the Target. There's also been high ridership at the stop near the Hamilton East Public Library.
Tucker said that May Mobility is really pleased with the project thus far and noted that the City of Fishers has been a truly accommodating and helpful partner in the process.
At the end of this six-month trial run, the city can evaluate the results and decide if this service is something it would like to implement on a long-term basis.
"Right now, we're in the deployment phase where (the City of Fishers) is testing and evaluating if this is something that they would like to continue," Tucker said. "We've done a really great job with this partnership so far, and I think there could potentially be a future path forward. We just need to have those conversations."