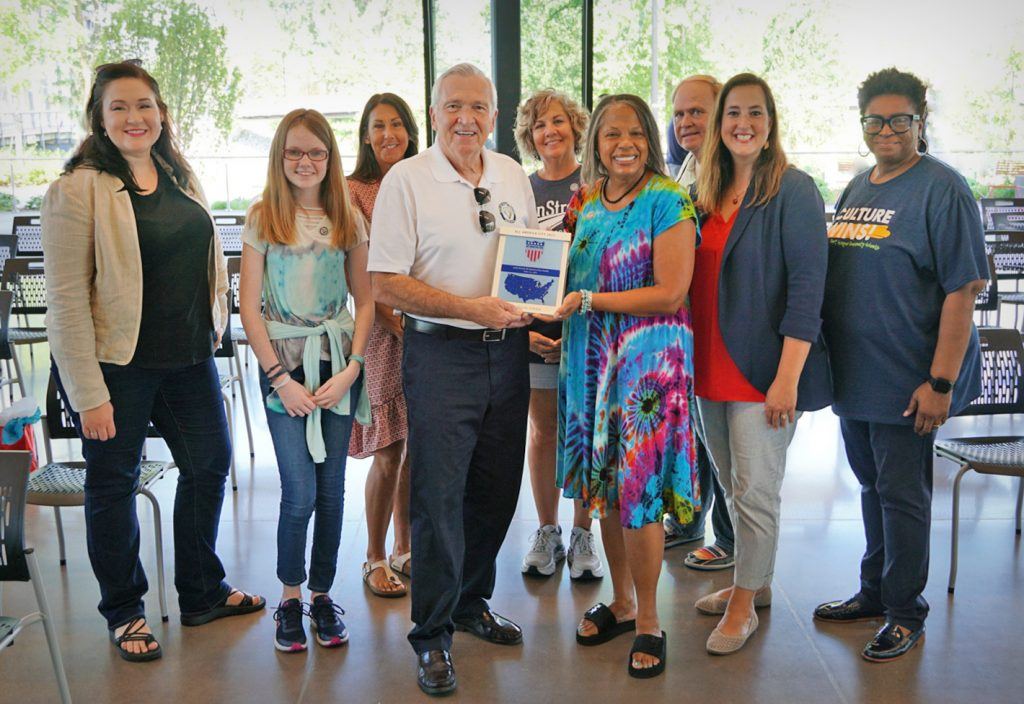 Jack Carney, Aim Hometown Innovations Contributor
During Fort Wayne's All-America City Award presentation, Fort Wayne UNITED Director Iric Headley delivered the line of the show: "What's amazing is that in Fort Wayne, Indiana, we don't talk diversity and inclusion, we actually do it. We live it."
Headley's statement was the exclamation point to a compelling presentation that showcased Fort Wayne's accomplishments in building equity and resilience – the main themes for the award in 2021. In the end, the jury members from the National Civic League agreed with Headley's proclamation as they designated Fort Wayne a 2021 All-America City during a virtual ceremony in June.
It's the fourth time Fort Wayne has won the award (1983, 1998 and 2009) which has honored 10 communities across the country every year since 1949.
The efforts and successes of Headley's Fort Wayne UNITED were one of the key components in Fort Wayne's case to earn the award. The project combines two national initiatives – Cities United and My Brother's Keeper – as it works to improve opportunities for black men and boys in the Fort Wayne area.
Fort Wayne's delegation also featured two other community-driven projects that exemplify equity and resilience as part of its AAC application – the ongoing Riverfront Fort Wayne project and Fort Wayne Community Schools' Family and Community Engagement (FACE) Center.
Headley was joined by Mayor Tom Henry and other community leaders in delivering the presentation titled "Moving Forward Together" which took place via Zoom call on June 9th.
"Being named an All-America City is a tremendous accomplishment and is an indication of how Fort Wayne is moving forward in the right direction," said Mayor Tom Henry. "We're working each day to provide opportunities for every person who calls Fort Wayne home. Collectively, we're doing everything possible to engage, innovate and perform, and I truly believe our best days are ahead of us."
Behind the scenes, Fort Wayne's Director of Intergovernmental Affairs Stephanie Crandall spearheaded the city's application effort which began many months ago.
Crandall said that though Fort Wayne has won the award multiple times, it does not apply for the honor every year. But when Crandall saw the 2021 themes of equity and resilience, the decision to apply became an easy one.
"In our case, we knew we had lots of examples showing Fort Wayne's commitment to building an equitable and resilient community," Crandall said. "We had to narrow those down to the three we showcased."
Crandall and her team submitted a written application to the National Civic League in February. One month later, Fort Wayne was named one of the 20 finalists and earned the opportunity to give a final presentation in June.
Riverfront Fort Wayne
The first community project that Fort Wayne's delegation presented at the virtual event in June was Riverfront Fort Wayne.
Fort Wayne's rivers – the St. Joseph, St. Marys, and Maumee – have been vital to the community since the beginning. The city's original purpose was of course as a military fort built under the direction of American Revolutionary War general Anthony Wayne, but it's location in relation to the rivers made it a productive trading post for pioneers in the early 1800s.
But, as Riverfront Program and Events Manager Megan Butler explained in the presentation, Fort Wayne "turned its back" on the rivers in the late 1990s. After major flooding hit the city in the 1980s, Fort Wayne began to withdraw from its downtown and the three historic rivers. Ten miles of levees were built, hiding the rivers behind protective walls and natural brush.
Things changed again over the past decade as many Fort Wayne residents expressed a desire to reincorporate the rivers back into city life, and in 2014, Mayor Henry commissioned a comprehensive riverfront study.
The plan that emerged was very much community driven. Thousands of residents provided input as they completed surveys, attended events, heard presentations and shared ideas.
"Riverfront Fort Wayne is an excellent example of a grass roots effort," Crandall said. "People said, 'We need to be able to have a place to go, and here's what we want it to look like.'"
The result of this community push is a riverfront development plan which completed Phase I with the creation of Promenade Park in August 2019.
The park opened with a three-day grand opening extravaganza where over 100 groups celebrated arts, culture, recreation, and nature. A diverse crowd of more than 45,000 people attended. Members of ethnic, racial and religious minorities were all present.
"This was more than just a party for the city's history books," Butler said. "It was the beginning of a movement to deliver on a promise to be a space that is truly for every person in our community."
Fort Wayne UNITED
The second part of Fort Wayne's AAC presentation began when Iric Headley entered the stage to describe the efforts and successes of Fort Wayne UNITED.
Fort Wayne UNITED, a mayoral initiative that began in 2016, consists of various programs and projects aimed at promoting equity and diversity across the community and ensuring that all people in Fort Wayne, especially black males, are respected, appreciated and valued.
Headley focused on a few of Fort Wayne UNITED's many programs, starting with the TenPoint Coalition.
"The TenPoint Coalition is a boots-on-the-ground approach that empowers people who in some cases were a part of the problem but now are a significant part of the solution," Headley said. "They learn about community needs; they build relationships and they connect people to live-saving resources."
The Coalition hires people from the community – faith leaders, former gang members and family members impacted by the cycle of violence – to go out and be a force of positive change. Members are paid and trained to patrol identified neighborhoods and to examine the areas of crime, education, health and housing.
According to Headley, within the first 14 months, Coalition efforts helped reduce crime by over 70 percent in targeted neighborhoods.
Mayor Henry added that beyond the Coalition members doing the work in the neighborhoods, people from across the Fort Wayne community have come forward to get involved with this initiative.
"So many people at the professional level embraced this particular program," Mayor Henry said. "(Headley) has a board of directors that includes judges, teachers, businessmen and others in the community that came forward by themselves simply saying: 'This is something that our community needs. This is something that's definitely worthwhile.' It has really excited the entire community."
Headley also spoke about Fort Wayne UNITED's most recent venture, United Front, which was rolled out in September 2020 following a summer of racial tension and civil unrest. The project engages community members in a cultural competency curriculum that fosters racial equity, healing and unity.
Headley passed the microphone to Brenda Gerber Vincent of Greater Fort Wayne, the city's chamber of commerce, to explain how the business community is participating in this endeavor.
"Businesses and their employees care about racial diversity and inclusion," Gerber Vincent said. "In Fort Wayne, we have United Front where 185 organizations and more than 8,000 business leaders are having meaningful conversations in a safe environment. We are learning a common language and philosophy that will change the course of community for generations to come."
Family and Community Engagement Center
The final part of Fort Wayne's presentation was a description of the Family and Community Engagement (FACE) Center led by Shenita Bolton, the college and career readiness manager for the school system.
FACE opened in the fall of the 2016-2017 school year and truly serves as a "one-stop shop" community center full of resources for all comers.
"I think it's important to note that FACE was intentionally and strategically placed on a city bus route in the downtown area to make sure we be accessible for our students, their families and the entire community," Bolton said.
FACE provides programming and services in everything from school-related issues to health to housing services. The center employs staff members with expertise in counseling, college admissions, scholarship obtainment, athletic coaching, music performance, nursing certification, school administration, philanthropy, as well as recruitment for and implementation of tutoring services.
FACE has had a huge positive impact on the community over the past five years, and Bolton has the data to prove it.
Since FACE's inception, college visits by students in the area have increases by 80 percent. Vision, hearing, mental health referrals, physicals and immunizations have increased by 117 percent. And funding for college and career readiness has increased from $30,000 per year to $22.4 million over the past seven years.
At the conclusion of the presentation, it was clear the National Civic League was duly impressed by Fort Wayne's projects.
Rebecca Trout, the AAC program director, said that the League loved how each project was such a collective effort, driven not solely by government officials but by the people.
"It was really the community driving all three of these efforts, which is what we like to see," Trout said. "We are all about civic engagement and collective governing. Government and people and other institutions should really be working collectively to create the community that they would like to see, and that really came through in Fort Wayne's projects."
Due to the virtual nature of this year's presentations and awards ceremony, Fort Wayne did not physically receive its All-America City hardware until very recently. On Sunday, August 29, Valerie Lemmie, a National Civic League board member, traveled to Fort Wayne to present Mayor Henry with a plaque to commemorate the accomplishment.
"We're so excited to win it this year," Crandall said. "It really is a testament to the work we do every day to make Fort Wayne a better place to live."