Chelsea Schneider, Municipal Innovations Specialist, Aim
Greenwood serves as an example of how tax-increment finance (TIF) districts – when properly executed and managed – provide a significant advantage to local communities.
Local governments create TIF districts to facilitate growth in a specific area. Once established, TIF funds come from the difference in property tax dollars generated by increased economic activity in the district.
TIF districts capture revenue via improved commercial property values, and the city's Redevelopment Commission reinvests that revenue to facilitate more development. The districts exist for a set period of time, and once ended, organizations receiving tax funds enjoy what is likely to be exponentially increased annual revenue.
Greenwood has taken a progressive approach to how TIF districts benefit organizations even earlier, particularly its several high-performing schools. City officials recently launched a grant program – supported by revenue from TIF districts – to fund new technology and other improvements. One local school district used the program to fund wireless network equipment.
"We try as hard as we can for all projects to promote quality of life," Greenwood Mayor Mark Myers said.
Myers says TIF districts allow local leaders to invest funds generated by growth right back into the community for livability and infrastructure projects. It's a necessary support as cities and towns work to attract new residents and jobs.
Another innovative approach has been the city's willingness to use TIF funds for public-private partnerships. The city is in the process of building a new parking lot adjacent to Our Lady of Greenwood in partnership with the church, which will double as both church and public parking.
The church is located in the heart of the city's downtown, an area that Greenwood leaders are working to transform with urban housing, commercial developments and new community gathering spots.
"These districts and the funds generated are intended to be a catalyst for development and community revitalization," said Myers. "We're going to explore every opportunity to do just that."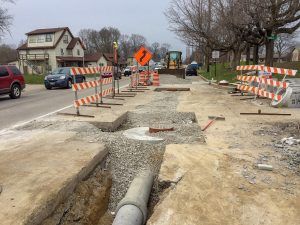 Greenwood has used TIF funds to build infrastructure into its industrial and office parks as well. Those improvements are an important factor in businesses choosing to locate to Greenwood, Myers said.
"We would not be able to build the majority of the roads we need to build without TIF," Myers said. "We build those roads and build up the infrastructure, so companies will come to that area."
One of the best examples of this is Greenwood's Nestle Waters plant. The city used TIF funds to build infrastructure that attracted the plant's construction, which created 64 new jobs at an average wage of $33,000 a year. In turn, Nestle invested $30 million in bottling equipment and made $2 million in upgrades to the building at the city's Precedent South Business Park.
The city also has used TIF funding to:
Partner with the Indiana Department of Transportation to build a new interchange off of Interstate 65.
Provide the local dollars necessary for the city to access a state grant to revitalize facades of storefronts downtown.
Build a new parking lot, which included storm water infrastructure improvements, for Greenwood Public Library. The city's investment freed up library funds for interior upgrades.
"We wouldn't be able to survive without TIF," said Myers, calling the strategy one of few left available to local leaders for enticing businesses. "Economic growth is critical to Greenwood's long-term sustainability, and we're working every day to facilitate and drive opportunities."