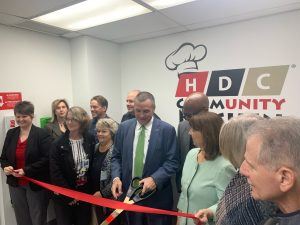 French Lick – Accelerate Indiana Municipalities (Aim) announced Hammond has earned an Aim Program Innovation Award for their Food Entrepreneurs Program. The city was honored with this award on Wednesday, August 23rd during the Annual Awards Luncheon – presented by Baker Tilly Municipal Advisors, LLC during the 2023 Aim Ideas Summit in French Lick. Hammond won in the greater than 50,000 population category.
The HDC Community Kitchen and Cafe Program began in April 2022 with the opening of the HDC Community Kitchen. Funded by many sponsors, the HDC converted an underutilized lunchroom into a commercial kitchen that allows start up and emerging food businesses a place to learn and to cook in a commercial kitchen environment.
The Food Entrepreneurs Program is an 8-week course that allows participants the opportunity to pull together all facets of a new business, to examine the consequences of different strategies and tactics, and to determine the human and financial requirements for launching and building an idea into a viable business venture. Furthermore, the program includes a one-year membership in the HDC Community kitchen and 5 free hours of kitchen usage time. The total cost per participant is $350 of which the participant pays $150 and a grant subsidy of $200 takes care of the balance. In just over one year, the program has graduated forty new food businesses.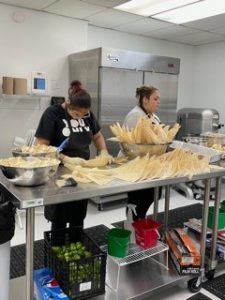 Aim CEO Matt Greller said, "Small business owners are the backbone of any community. These entrepreneurs make up local boards and commissions, volunteer their time, and raise their families in our cities and towns. The Hammond Food Entrepreneurs Program ticks so many innovative boxes and will certainly help grow the city's quality of life, making them an even greater attraction for talent and the employers that follow."
The Program Innovation Award honors communities that introduced and executed new ideas and methods to carry out municipal activities. Awards are presented in multiple population categories based on nominations received.
In its 47th year, the Aim Annual Awards program, presented by Baker Tilly Municipal Advisors LLC, recognizes communities and individuals in municipal government for excellence and outstanding achievement. A seven-member panel of qualified judges selected this year's winners from a competitive field of nominees from around the state.
Conference Facts:
2023 Aim Ideas Summit
August 22-24, 2023
French Lick Resort
Attendance: 1,000 (pending final registration count)