Chelsea Schneider, Municipal Innovations Specialist, Aim
Inspired by its recent bicentennial, the town of Orleans is making strides in preserving its historic downtown and attracting new businesses to the corridor that serves as the gateway to popular tourist destinations in southern Indiana.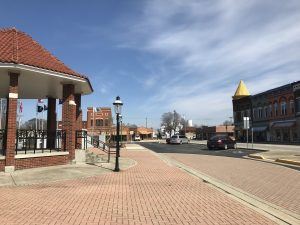 In 2017, the town partnered with local economic development leaders to launch a comprehensive façade revitalization program that is sprucing up 25 buildings in the National Register-listed downtown. The program, a joint effort by the Orange County Economic Development Partnership, Radius Indiana and local town and chamber leaders, infused as much as $11,000 into each business front.
Today, the town is reaping the benefits of that work. The result is a Downtown Orleans with a renewed feel, while keeping the century-old attributes of the buildings alive. Property owners chose historic paint colors and installed period-like awnings along Main Street.
"The façade project has taken off and created some new energy," Orleans Clerk-Treasurer Robert F. Henderson said. "With all these wonderful things happening in Orange County, with the destinations of French Lick and West Baden, as a community we want to partner and help build on those things and support those things whenever we can."
The façade improvements give Orleans residents hope, downtown property owner Simon Sprigler said.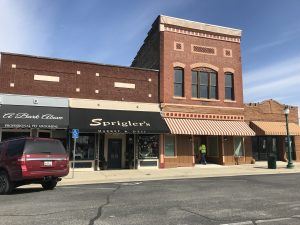 "A lot more people have been asking about buildings than we ever had before since the façade (program,)" Sprigler said.
But the journey in revitalizing the downtown and celebrating its historic charm hasn't been without its challenges. Two years ago, a fire damaged three buildings in the core of Orleans' urban center. Town leaders responded by taking ownership of the buildings and accessing grant funding to help make repairs. With the buildings stabilized, the plan is to attract buyers.
"The town stepped up," Henderson said. "Because those three buildings were impacted by fire, undoubtedly their fate would have been to knock the walls down and that would have been the end of it. We wanted to save those buildings because those buildings are important to our downtown. It's an important piece to the revitalization efforts of our community."
The town also owns a fourth building, where there's been talks of potentially locating a business incubator. And with the recent addition of furniture manufacturer Jasper Group, town leaders are hopeful and optimistic for more good things to come to Orleans this year.
"It's a perfect example of what can happen when a community comes together and everyone is on board with bringing about positive change," said Misty Weisensteiner, executive director of Orange County Economic Development Partnership.
A vibrant downtown will keep the community, which was founded in 1815 as the oldest town in Orange County, going strong for years to come. Known for its signature dogwood trees that line the historic downtown square, Orleans is home to a booming farmers market and several other community festivals.
"The town has been very fortunate to have people in place and leaders who passionately care about the community as a whole and are interested in seeing Orleans go forward" Henderson said. "We certainly have our share of challenges as a small rural community – but we are coming together to do some big things as a small town."