Chelsea Schneider, Municipal Innovations Specialist
(This is part of an ongoing series on the positive impacts federal community development funds have on local communities.)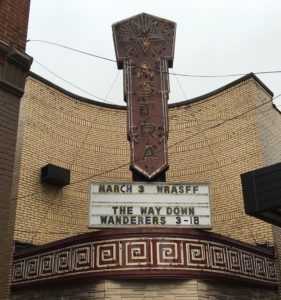 The historic Astra Theater in Downtown Jasper is where Marc Steczyk first saw the iconic basketball film "Hoosiers."
Today, Steczyk is a leader of Next Act, Inc., a group of arts enthusiasts restoring the 1930s-era theater nestled in Jasper's downtown square. Critical to the project's success is Next Act's robust fundraising campaign, which was bolstered in 2016 when Jasper received a $400,000 Community Development Block Grant to support the theater project.
The federal grant will help cover the cost of a new roof and HVAC system for the Astra, which is a sentimental place for many community members.
"People came here for their first date or saw their first movie here," Steczyk said. "The fact people think so much of it has really pushed us."
In its heyday, the Astra served as the city's primary theater. But the theater was forced to close in 2002 after struggling to compete with multi-screen facilities.
Next Act initially focused on raising the funds necessary to renovate the Astra's exterior. Now, work will extend into the interior of the building after additional dollars materialized.
The restoration will replace the fake rock and granite on the façade of the building with glass, refurbish the Astra sign and install a new electrical system. Re-opening the Astra's balcony, currently encased in drywall, also is a goal.
"I think it speaks volumes as to what the Astra means to this community to have had the support and generosity that we've had – particularly, as we have entered this last phase of fundraising for the interior renovations," Steczyk said.
The project aligns with Jasper Mayor Terry Seitz's goal to increase art in the public realm.
"It's just wonderful," Seitz said of the Astra work.