Chelsea Schneider, Municipal Innovations Specialist, Aim
A new park in Downtown Huntingburg is expected to serve as the city's central gathering space for generations to come.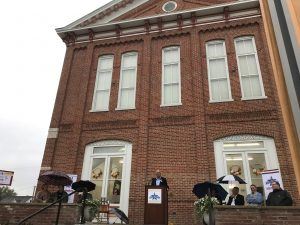 Local and state leaders gathered at Market Street Park in October to celebrate the completion of the project. The multi-functional space includes pergolas, pavilions and an event lawn. But the benefits of the new urban park go beyond bricks and mortar, project leaders said at its ceremonial opening.
"Progressive communities around the world have focused on creating unique outdoor spaces that help define their culture," said Ron Taylor with TSW Design Group, which worked on the project.
That notion, Taylor said, rings true in smaller Hoosier communities where the courthouse square often serves as the heart of a city or town.
"Residents and community leaders here understood the need for a central gathering space in the community and understood what a downtown park would mean for Huntingburg," he said. "This park will now become the signature gathering space in Huntingburg. Its design is unique – the result of a collaborative design process with community residents and leaders. There is no place like Market Street Park in the world."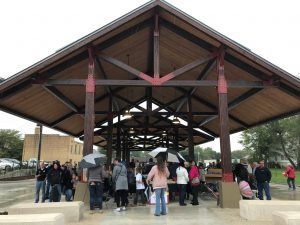 Market Street Park, which will host a multitude of city festivals, farmers markets and other events, is the signature piece of Huntingburg's Stellar Communities designation. In 2014, the city earned the distinction from the state, and through the program, received an influx of funding for community development projects. The park connects the historic downtown shopping district with the community's iconic Old Town Hall. Other Stellar projects include an expansion of workforce housing, trails and street reconstructions.
Huntingburg Mayor Denny Spinner told the large crowd gathered for the opening that the park is dedicated to the city's residents and all who will come and enjoy the space for years to come.
"This is Huntingburg's park. Everything you see someone from Huntingburg has had input on to make this thing happen," Spinner said. "I could not be more proud to stand in this community space and share it with you today. Huntingburg is a city like no other. Every time I talk I have to say that, and I say it because I mean it. Huntingburg is a city like no other, and this place is just the latest example of what Huntingburg can do and what Huntingburg is all about."
The Market Street Park event served as the final stop to the Indiana Office of Community and Rural Affair's Downtown Development Week. Across the state, communities came together to celebrate the unique role their urban core's play in their cities and towns.
The park is a result of incredible collaboration and partnership, said Maureen Hayden, director of intergovernmental affairs for Lt. Gov. Suzanne Crouch.
"This new park," Hayden said, "is a cornerstone piece of the continued development of the city."