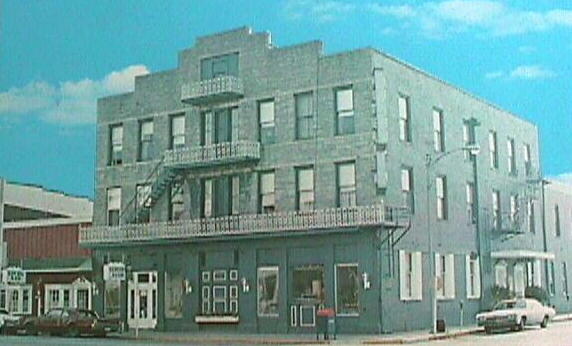 Chelsea Schneider, Municipal Innovations Specialist, Aim
An iconic feature of Rushville's downtown since the 1850s, the city is giving the long-shuttered Durbin Hotel a new purpose by transforming the landmark into senior housing.
During its heyday in the 1940s, the Durbin building served as the headquarters of Wendell Willkie's presidential campaign. But over time, the building became a symbol of Rushville's struggles to re-energize its downtown. Today, the community is well on its way to transforming its urban core, thanks to the leadership of Mayor Mike Pavey's administration and the state's Stellar Communities program.
Soon, the historic hotel will become Campaign Flats, which is planned to offer 19 affordable housing units for seniors. Another historic building, the nearby Knights of Pythias, will house additional units for families. Altogether, the improvements will amount to an around $8.5 million investment with the projects benefitting from state tax credits through the Indiana Housing and Community Development Authority. The work also will preserve the historic features of the buildings, while ensuring their use for future generations.
"This project provides the city an opportunity to attract a significant investment into Rushville's Commercial Historic District," Pavey said. "This project will provide additional downtown housing options and drastically improve the aesthetics of our downtown. I could not be more excited about this project."
The housing expansion is a big deal, said Brian Sheehan, Rushville's director of special projects.
"To have a project that utilizes a treasure from our past to help lay the foundation for a better future is really cool. We can't thank our partners at SIHCDC (Southern Indiana Housing Community Development Corporation) and Milestone Ventures enough for all of the help, patience and perseverance during this process," Sheehan said. "Obviously, this doesn't happen without winning Stellar, so a huge shout out to our friends and partners at OCRA. Their people and programs continue to make us better every day!"
Positioning itself as a hub of innovation in rural Indiana, the new housing is one of a series of projects Rushville is launching in a bid to circumvent population decline and attract more residents and businesses to the community.
City leaders expect the projects, which also include a business incubator and a gateway plaza, will revitalize Downtown Rushville and serve as a blueprint for other rural municipalities.
"The people in Rushville they are an amazing group of people to work with. They care about the community, and there is just a real positive vibe there," said Eric Frey, executive director of Administrative Resources Association and SIHCDC, which is assisting Rushville with the project. "If you get people downtown, they support other opportunities and investments downtown."