The Parke County Covered Bridge Festival
Jared Reedy, Aim Hometown Innovations Contributor
As autumn paints the landscape with vibrant orange-yellow hues, Hoosiers and visitors alike can revel in scenic drives through rolling hills and breathtaking foliage across Indiana. The tranquility extends beyond the car at the Parke County Covered Bridge Festival. The ten-day event, held annually starting on the second Friday in October, pays homage to the rich history and picturesque  charm of the region. It has become a beloved tradition for both locals and tourists. Parke County boasts an impressive collection of 31 historic covered bridges, making it the "Covered Bridge Capital of the World."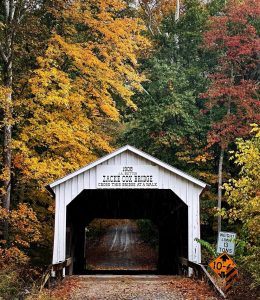 Dating back to the mid-1800s, the iconic structures were built to withstand the harsh midwestern weather and provide safe passage across rivers and streams. The first covered bridge in Indiana was built in Henry County in 1835. Initially constructed with local timber, more durable materials like iron and steel were later used. Covered bridges became an integral part of Parke County's transportation system, connecting communities and facilitating trade. Over time, their architectural charm and historical value attracted tourists from far and wide, leading to the establishment of the annual Parke County Covered Bridge Festival in 1957.
"Rockville serves as the headquarters to the Parke County Covered Bridge Festival," explains Rockville Clerk-Treasurer Brandy Asher. "The local businesses offer storefront shopping and work hard to prepare for these ten days as we see well over one-million people that visit the Bridge Festival annually. We always look forward to what the festival brings to our Historic Downtown."
The festivities are spread across ten Parke County communities, each of which is packed with unique vendors, activities, and mouth-watering food. Delicious apple butter is made and sold in Bloomingdale, while Tangier serves "world-famous" buried beef. The Rosedale Civic Center serves as an activity hub with a large country market of homemade items. Rockville features wood-carving demonstrations. Mecca has local crafts nestled alongside their covered bridge and one-room schoolhouse. Bellmore offers "a little bit of everything" (including pumpkins, mums, primitives, and family yard sales). Montezuma offers Wabash and Erie canal tours in addition to roast hog, crullers, and iron pot ham. Attendees can also visit the Mansfield Roller Mill, Bridgeton's scenic historic district, or Billie Creek Village's historic buildings.
Guided bus tours are offered during the festival for $35 a person. These depart from the Rockville Courthouse Square at various times throughout the first nine days.
Asher is thrilled to have thousands attend annually, "Personally, I love the atmosphere of the festival, the new people I meet as well as all the wonderful food. I have to say small town living is the best!"