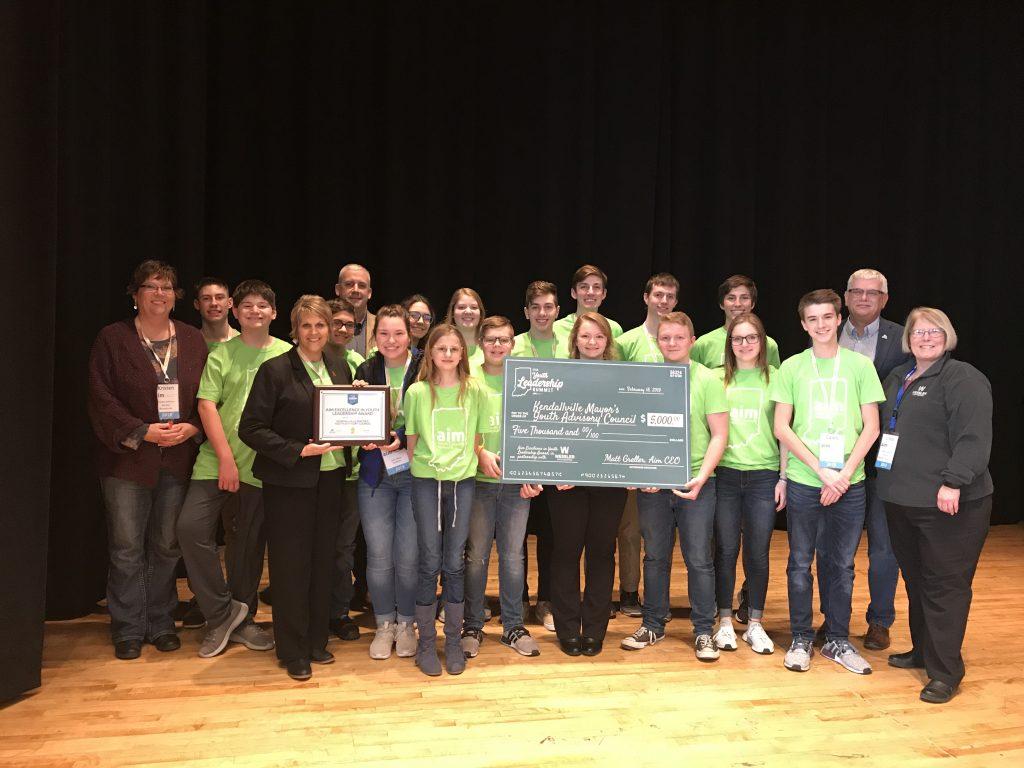 FOR IMMEDIATE RELEASE
The Youth Council earned $5,000 for a community development project at the 2019 Aim Youth Leadership Summit
BLOOMINGTON, IND. (Feb. 16, 2019) – The Kendallville Mayor's Youth Advisory Council was recognized as the top-performing youth council in the state at Saturday's 2019 Aim Youth Leadership Summit.
The youth council received the Aim Excellence in Youth Leadership Award, in partnership with Wessler Engineering. The award honors a youth council, which has made transformative and lasting efforts to better its community. Through the award, the Kendallville Mayor's Youth Advisory Council will receive $5,000 to undertake a youth-led community development project.
"The Kendallville Mayor's Youth Advisory Council has a strong track record of creating positive change in its community, and we commend the youth council for its work," said Matt Greller, CEO of Accelerate Indiana Municipalities (Aim.) "At Aim, we are committed to engaging young leaders who are helping transform Indiana's cities and towns for generations to come."
For more than a decade, the Kendallville Mayor's Youth Advisory Council has provided hands-on learning opportunities for students. Members are not only taught they can make a difference, they are given the opportunity to do so through direct involvement in projects. One of those projects is a plan to renovate an alley near a theater. The goal is to turn the space into a functional, family-friendly community gathering area. The proposed project will feature picnic-style seating, a feature mural and chalk wall, decorative LED lights, a "floor maze" for kids, among other amenities.
The Kendallville Mayor's Youth Advisory Council accepted the statewide award Saturday, February 16, at the Aim Youth Leadership Summit at Indiana University-Bloomington. The event is part of the Aim Youth Councils Network. The network's goal is to grow the number of municipal youth councils in Indiana and provide leadership development and networking opportunities for those groups.
More than 190 participants attended the 2019 Aim Youth Leadership Summit, representing 16 cities and towns in Indiana.
Sponsors for this year's Youth Leadership Summit, in partnership with the Indiana University School of Public and Environmental Affairs, included Wessler Engineering as presenting sponsor. Gold level sponsors included Bingham Greenebaum and Doll Attorneys at Law, and Indiana University Center for Rural Engagement and Office of the Vice President for Engagement.
###
About Aim
Since the 1890s, Aim, formerly the Indiana Association of Cities and Towns, has been an advocate for Indiana municipalities.  Aim is the official voice of municipal government in Indiana, with more than 460 cities and towns as members.  Our purpose is to foster, promote and advocate for the success of Hoosier municipalities as laboratories of innovation, hubs of talent and the engines driving our state's economy.