Chelsea Schneider, Municipal Innovations Specialist, Aim
Lagro, a small town in northeast Indiana with picturesque views of the Wabash River, is receiving a big boost.
Community leaders say a project to connect Lagro to Wabash by trail is acting as a catalyst for renewed interest into the historic river town of 400 residents. The hope for the 6-mile stretch, funded mostly through private donations and the state's local economic development program Regional Cities, is to prompt the opening of businesses and restoration of homes in the town.
Already, the trail has led to an upgraded boat launch, repairs to homes along the river and a new public rest stop near downtown. What's more, the president of a local organization, the Lagro Canal Foundation, has purchased three properties in Downtown Lagro, with plans to upgrade the buildings and turn them into destination amenities.
"That will bring in people from outside the community and give them a place to shop, a place to eat and a place to sleep here to visit relatives," Lagro Clerk-Treasurer Kristie Bone said, "and it increases our tax base."
Drawing more people to Lagro also will cast a spotlight on its proximity to outdoor amenities, including Salamonie River State Forest and Hanging Rock, a natural landmark whose limestone form has inspired its own legend. One day, the trail also could extend out to neighboring communities, connecting to the Nickel Plate Trail. For now, community leaders are focused on the segment that follows the river from Wabash's Paradise Spring Park to Lagro.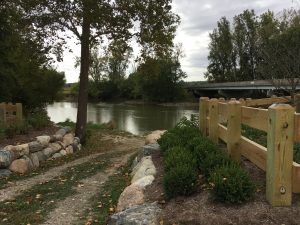 "I think Lagro will be the epicenter for this trail," said Amy Ford, president of Wabash River Trail, Inc. "It will always be, 'Let's go to Lagro and go from there.'"
"When you put nice amenities in, it kind of raises the awareness and excitement and how that can add a spark back to this town," Ford said. "I love Lagro. It's so perfect right next to the river."
The private investment complements the town's work to build its infrastructure, including the installation of a new water tower and improvements to sewage and stormwater treatment, said Richard Monce, a town council member. However, without the interest of the trail organization and the foundation, the amount of progress toward revitalizing the community wouldn't have happened, he said.
"The town the size of Lagro does not have the financial resources to do these types of things," Monce said. "Them coming here with these ideas and putting private money to use in this town is huge."