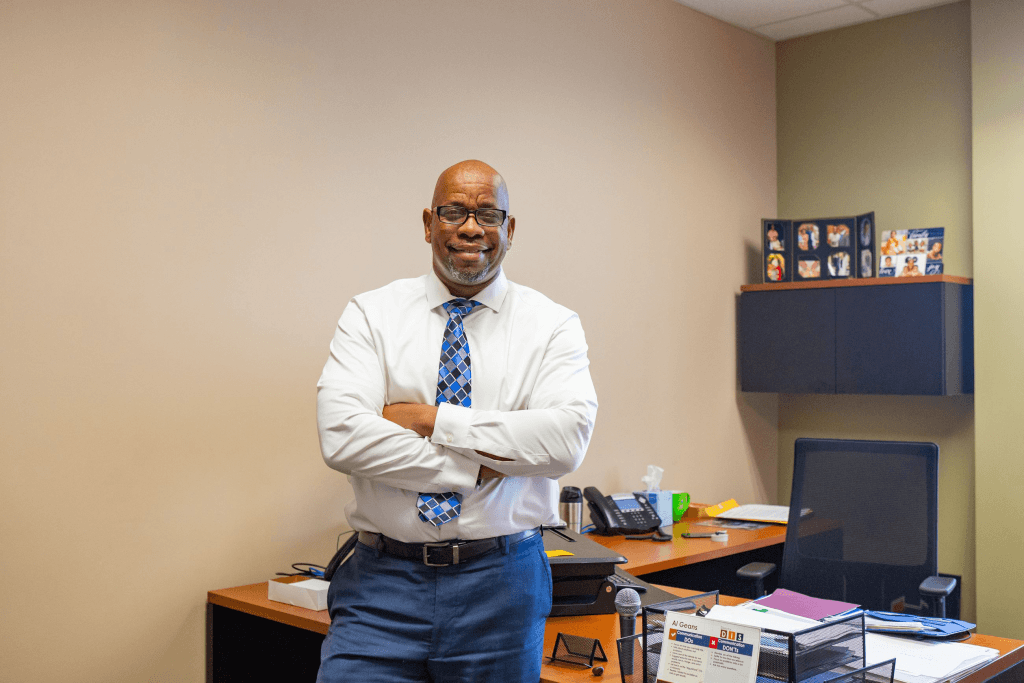 Assistant Town Manager Al Geans is one of the few black people to hold a leadership role in Hendricks County. He hopes to change that by engaging Brownsburg employee and the community in conversations about diversity, equity, and inclusion.
"Brownsburg has been very welcoming," said Al, who moved to the Town in 2020 from Ohio. He and his wife, Tonya, recently moved into a home in Avon. "I've made an attempt to get involved in the community and people have welcomed me with open arms."
Al is a member of the Hendricks County Diversity Alliance, which brings leaders from across the county together to discuss ways to increase diversity in all communities. His hope is to learn practices that are working in other areas that can be adopted in Brownsburg, while also creating initiatives specific to our Town's needs.
At Al's direction, the Town's Community Engagement Advisory Committee has adopted a diversity, equity and inclusion focus. The committee is made up of employees from multiple departments, and the goal is to begin to talk about how to infuse diversity more deeply into the fabric of Town decisions, from employment to contracted services.
Al spent the bulk of 2020 getting to know employees and evaluating the effectiveness of each department. He and Human Resources Director Nick Van Horn have developed a process to help staff members better understand the need to set department goals and develop processes to meet them.
"We have to set a foundation before we can move forward. We're asking staff to assess where we are and to help us to set a direction for where we're going," said Al.
Al and Nick recently assisted the Development Services Department in working through this process, resulting in the creation of four committees that help staffers to stay focused on their goals.
"I feel good about the team we are building. I'm impressed with the progress we've made in one year," said Al. "There's been a lot of change and staff has managed this well. I appreciate how patient staff have been. I've asked staff to trust the process and they've done it. Staff hasn't been afraid to try new things, new processes. I believe this will lead to long-term success for our Town."
Al is grateful to Town Manager Jeff Eder for his support. "I thank Jeff for bringing me on the team and allowing me to be the type of leader I am. I'm very, hands-on. I'm process-driven. He has been patient as we've assessed the strengths and weaknesses of the organization. I believe this will help us to move forward in a more successful manner."
Al also recognizes the Town Council's role in his success. "The Council has given Jeff and I the green light to start facilitating a process for them to track our progress. We're embarking on working with the Council each month to create goals and work together transparently to set priorities for the Town."
Al hopes that in five years, the Town will meet our mission to foster a welcoming environment that promotes business development and a variety of educational, employment, and recreational opportunities for all.
Source: Town of Brownsburg Blog