Jack Carney, Aim Hometown Innovations Contributor
On a state map, Ligonier appears to be a mere speed bump, a small town in Northeast Indiana that slows travelers for a few stoplights as they head north on State Road 5 towards Shipshewana. But in reality, Ligonier has become a colorful attraction, even a destination in its own right.
Over the past 10-plus years, the people of Ligonier have transformed their historic downtown into a vibrant landscape by adding 36 murals painted across various buildings, earning the town the moniker "The City of Murals."
The impressive series of paintings began going up in 2007, but the mission to bolster the Ligonier downtown started much longer ago, according to Mayor Patty Fisel.
Back in the early 1990s, Fisel, a life-long Ligonier resident currently serving her fourth four-year term as mayor, thought that her beloved hometown was not getting the publicity it deserved.
"Our town needed to be revitalized," Fisel said. "We needed to get more people to come into our community to learn about all of our rich history and all of the things we had to offer."
Fisel and her good friend Betty Peterson decided to take action. They founded the Ligonier Visitor's Center in 1992, converting an old gas station just south of downtown into a space to showcase the town's history and advertise community events. Fisel also helped form the Future Ligonier Alliance, a nonprofit organization that was crucial in obtaining grant money used to improve the downtown through a number of different projects over the years.
One of the projects recommended to the FLA by a group of outside consultants was the murals idea. Peterson and another friend, Ruth Elijah, loved the proposition and ran with it.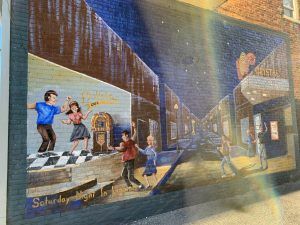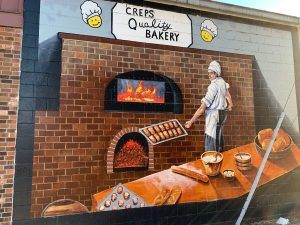 Beginning in 2007, Peterson and Elijah, in their late 70s and early 80s at the time, began traveling the country to research murals and find artists. They also solicited funds from businesses to support the project.
"A lot of the businesses had never been asked (for donations) before," Fisel said. "Actually, one of them gave (Peterson and Elijah) a check for 5,000 dollars. That gave them the boost to keep building their fund, and they continued to do that. All the murals in our city have been funded by private donations."
Many donations and 14 years later, Ligonier boasts three dozen murals scattered throughout its downtown.
According to Fisel, the artwork has helped the town capitalize on its location that naturally brings in a good deal of pass-through traffic. The murals can lure passerby to stop and explore for a bit.
"They've been a great attraction for us," Fisel said. "We are just north of the US 6-State Road 5-State Road 3 intersection, so we have a tremendously great location. Shipshewana traffic travels directly through our city, right through our downtown, so we're able to pull from that traffic. We've been able to maintain our downtown that way."
The murals come in all different styles and sizes. The 'Ligonier Depot' and 'Early Storefronts' murals are positioned side-by-side and run the whole length of a block on 3rd Street. Other paintings are only the width of a doorway.
Each mural depicts a landmark, event or era from Ligonier history. The first mural created was a painting of Native Americans camped along the Elkhart River. Another illustrates Isaac Cavin, one of northeastern Indiana's earliest settlers who founded the town in 1835.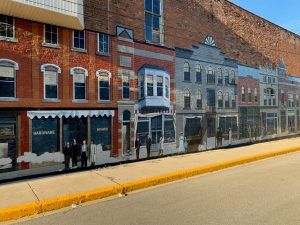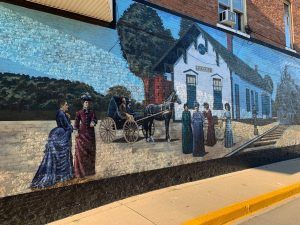 Many of the murals honor historic Ligonier businesses of the past, such as Wilkinson Quilt Co., Schrock's Flowers, Creps Quality Bakery and Kidd's Marshmallows.
Any Ligonier historian will tell you that the town used to be known as the "Marshmallow Capital of the World." Kidd & Company no longer exists after closing for good in 1996, but the town still holds the Ligonier Marshmallow Festival every Labor Day weekend.
In addition to beautifying downtown, the murals have given this historic place a new identity. Many community members have helped make it possible over the years, and you can hear the pride in Mayor Fisel's voice when she reflects on the transformation.
"I love my city," Fisel said. "And I love the people most, and we just have a great team. We work together to try to make it the best we can.