Chelsea Schneider, Municipal Innovations Specialist, Aim
Michigan City's new police station boasts state-of-the-art training equipment and a design that's built around serving the neighborhood surrounding the facility.
When Michigan City Mayor Ron Meer took office, he hit the ground running on making the new station a reality. The upgrades were necessary as the northern Indiana city anticipates population growth, especially given the upgrades planned for the region's commuter rail service, the South Shore Line. The station also comes as Michigan City is seeing increased investment in its downtown.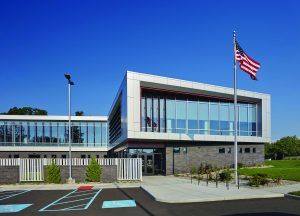 The end product is a police station that not only houses a virtual training simulator, but is dedicated to community policing with a playground, basketball court, sledding hill and meeting rooms for public use. The location of the station also is strategic, with the area receiving a higher call volume for law enforcement than other parts of the city.
It's important for young people to feel comfortable speaking with police officers, Meer said. And the facility encourages those encounters, with police officers routinely playing basketball with youth who come to use the courts. Along with basketball, the park outside of the station is a location for free food for children during summer break through a grant received by the local school system. The police department also has hosted a bike giveaway at the station for neighborhood children.
"It's about investing in your community," Meer said of the project. "Your residents and guests have to be safe and feel safe in the community."
The project came in under original budget estimates and will be paid off by 2020 thanks, in part, to the local economic development tool of tax-increment financing. The previous facility dated back to the 1960s and was built to accommodate about half of the staff members the department now employs, Michigan City Police Chief Mark Swistek said.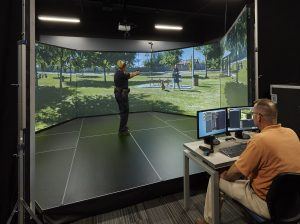 One of the most innovative features of the building is a 300-degree training simulator where officers are able to work through real-life scenarios, Swistek said. The cutting-edge technology is a draw for state and federal officers who come to the Michigan City facility to use the equipment.
"They are thinking on their feet and making split-second decisions, and it allows us supervisors to see how staff react and communicate during scenarios," Swistek said. "It's nice to have the collaboration of all the other departments who come in and utilize the training simulator."
The facility sits on almost 8 acres, with ample room for a playground with police-themed equipment and a quarter-mile walk/run track in addition to the basketball court. The park also is dog-friendly.
Tying the station into neighborhood activities helps with crime prevention and outreach to children before they get into their late teens and are more prone to run into trouble, Swistek said.
"We try to instill good citizenship skills in them," he said. "We in Michigan City strongly feel that community policing is a very important component of law enforcement, and we cannot police the community alone. It takes the community and police working hand-in-hand to have the great community we have."