French Lick – Accelerate Indiana Municipalities (Aim) announced Monticello has earned an Aim Program Innovation Award. The city was honored with this award on Wednesday, August 23rd during the Annual Awards Luncheon – presented by Baker Tilly Municipal Advisors, LLC during the 2023 Aim Ideas Summit in French Lick. Monticello won in the 5,001 – 50,000 population category.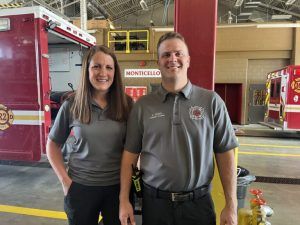 In 2021, the Monticello Fire Department partnered with IU Health White Memorial Hospital on a six-month pilot program to evaluate any opportunities there may be to improve health outcomes within the community. Led by firefighters and paramedics Nick Green and Chad Walther, the pilot program was designed to provide chronic disease management following discharge from the hospital. The team attended to the needs of fifty patients, none of which were readmitted within thirty days of discharge.
The pilot's success demonstrated the need for a permanent program, known now as Mobile Integrated Health (MIH). With an initial contribution by IU Health West Central Region, Green worked to find additional funding through grants and private donors. Services have been expanded to meet the need for maternal healthcare as Monticello and White County has been determined to be an obstetrics desert. To meet this need, MIH has expanded to include a maternal health specialist. This newest initiative is changing the outcomes for many of our families as they now have access to pre-natal, post-delivery, and infant care in their homes.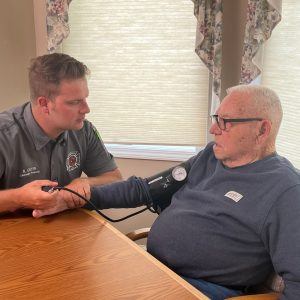 Aim CEO Matt Greller said, "I have seen presentations on this program by Mayor Gross and Nick Green on several occasions. I never stop being amazed at the level of determination and creativity shown to get this program up and running and expand it to meet the needs of Monticello's citizens. This is one of those innovative initiatives other communities can learn from and replicate in ways that best meet the needs of their own city or town."
The Program Innovation Award honors communities that introduced and executed new ideas and methods to carry out municipal activities. Awards are presented in multiple population categories based on nominations received.
In its 47th year, the Aim Annual Awards program, presented by Baker Tilly Municipal Advisors LLC, recognizes communities and individuals in municipal government for excellence and outstanding achievement. A seven-member panel of qualified judges selected this year's winners from a competitive field of nominees from around the state.
Conference Facts:
2023 Aim Ideas Summit
August 22-24, 2023
French Lick Resort
Attendance: 1,000 (pending final registration count)