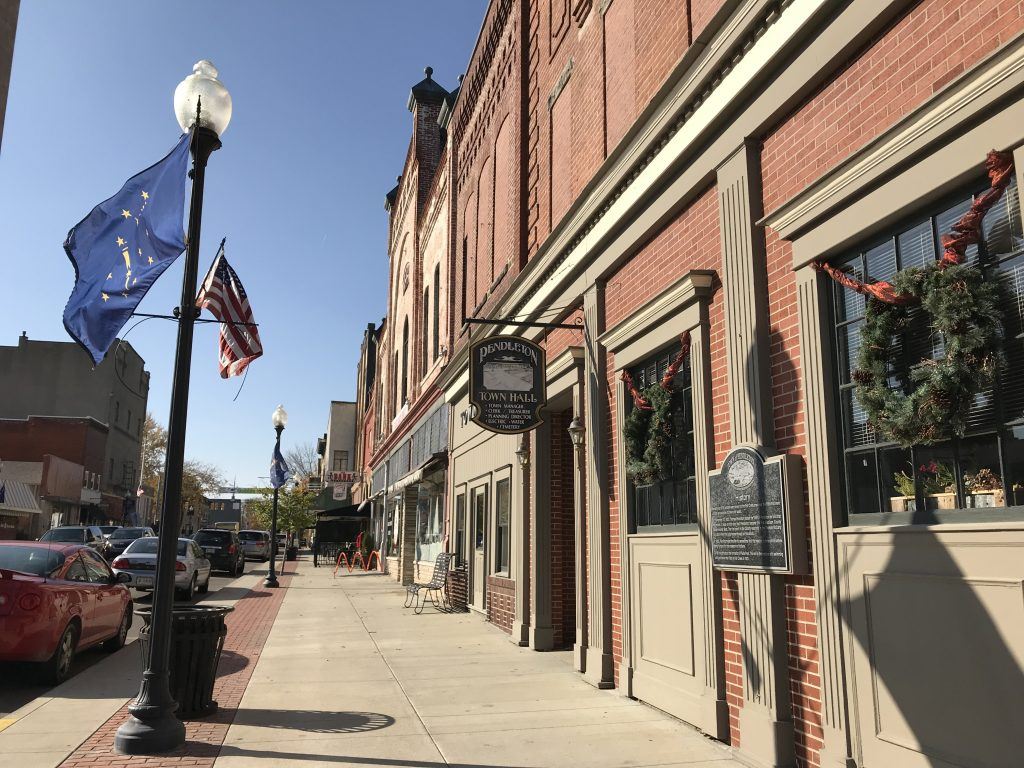 Chelsea Schneider, Municipal Innovations Specialist, Aim
Pendleton will soon greet travelers on Interstate 69 with a new welcome mat, town officials say. The construction of a wrought-iron pedestrian bridge over the busy highway is designed to give visitors a better idea of Pendleton's unique character and charm.
The new marker represents another sign of the town's progress. Nestled nearby Hamilton County's fast-growing suburbs, Pendleton has managed to hold onto its small-town atmosphere, while planning for growth of its own.
"We know we're not going to stop the growth," Pendleton Town Manager Tim McClintick said, "nor do we want to, but it needs to be in the Pendleton way."
With the infrastructure investments, Pendleton has launched a process to brand the community, so more people know about its inviting downtown, top-rate amenities and close-knit community. Then there's Falls Park, a vast public park with its namesake falls that has long served as the town's focal point. Constructing the pedestrian bridge over I-69 will play a major role in more people knowing about Pendleton's offerings, town officials say.
"We think a real issue right now is the interchange area doesn't reflect Pendleton," said Rachel Christenson, the town's planning and zoning coordinator. "That is our front door, and you'd never know that a mile down the road there is a cute, little downtown. We're trying to reflect our character a little more out there."
In a way, Pendleton is a town in transition. Less than a mile from the Hamilton County line, town residents are close to new shopping destinations, and Pendleton is coordinating with Fishers and Noblesville to plan interconnections with their bike trails. The town also recently received a grant to improve the facades of five structures in the downtown area.
But it's a balance of attracting quality development, while staying true to reasons residents choose to live in Pendleton, town officials say.
"It's our responsibility as planning staff and the town manager in making sure that character doesn't go away," Christenson said.
Along with the pedestrian bridge, the town is constructing a new water treatment plant. The addition to the town's water infrastructure is being done without a rate increase thanks to the town's use of a local economic development tool called tax-increment financing. Without TIF, the project would have represented a direct increase in cost to water users.
"Using the TIF dollars prevents us from having to raise the rates to the consumer," McClintick said. "With property tax caps and other changes in state laws, all communities have to come up with creative ways to make their dollars stretch."