Chelsea Schneider, Municipal Innovations Specialist, Aim
Future residents of Evansville's newest housing development will reside within a "living laboratory" for smart energy technology.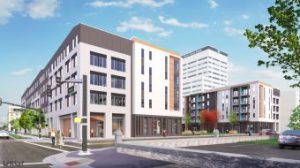 The Post House, which represents a $40 million mixed-use development in Downtown Evansville and Southwest Indiana's largest Regional Cities project, will feature one-of-a-kind apartment units. And residents can opt for those units to serve as a testing ground for a series of emerging technologies, thanks to a partnership with Vectren.
"We are creating an environment where people can live inside the Internet of Things and test various aspects of technology," said Greg Wathen, president and CEO of the Economic Development Coalition of Southwest Indiana. Wathen was among the Southwest Indiana leaders who secured Regional Cities funding. The funding is aimed toward projects that attract talent and people to a region. In addition to state funding, the project also is benefitting from a key local economic development tool – tax-increment financing.
The Post House will help bring vibrancy to living in Downtown Evansville, said Robbie Sears, vice president of energy solutions and planning for Vectren. The project is being developed on the remaining property adjacent to the historic Greyhound Bus Station, which is now home to the Bru Burger restaurant.
"This is really going to bring a brand-new look and feel to that downtown area," Sears said. "We think it's really going to be important to add technology in there that are nice features for customers, but also a great opportunity for us to participate and learn more about the future."
Solar technology will line the roofs of the development. Those solar panels will feed into the grid and also will facilitate a pilot project. Vectren will install in about 20 apartments residential battery storage units. During storms, the units will keep a portion of the apartment up and running, even during electrical outages. Apartments also will come equipped with Nest thermostats, so residents can manage heating and cooling remotely from their smartphones.
What makes the project unique is that residents will be able to control most of the smart technology through a single mobile app. For instance, LED lighting will come with smart switches, so residents can control turning them on and off remotely. Some electrical panels will feature electric usage monitors, so residents can see in real time the appliances using energy. The panels are designed to help residents better understand their electrical usage – and ways they could save. The units also will come equipped with ultra-efficient heating and cooling systems and other smart home automation features.
"The Post House will serve as a design standard for future housing developments," Evansville Mayor Lloyd Winnecke said. "With the ability to accommodate new technology and systems as well as adapt products and services based on real-time use, the Post House will help to position Evansville and Southwest Indiana as a leader in adaptive energy research."
The benefits of the Post House will extend beyond its residents. The developer plans to install street-side electrical vehicle charging stations for public use as part of the design. Vectren, as the utility partner on the project, will work with apartment residents to understand the customer experience of the products as they test them for broader use. The company also will run a showcase in a commercial space within the Post House that the public can access to learn more about battery storage units and other technologies featured in the apartments.
"The hope is to have learning there to take into more properties and potentially single-family homes as a way to manage energy and to really improve the life of the customer as well," Sears said.
"We really wanted this facility downtown, and we think it's very transformative for the downtown to be more millennial focused and offer a new modern dwelling," he said. "We really wanted to take the opportunity because we will have all the medical students with the downtown IU school. We will have people in there that are probably more tech savvy and looking toward the future."