Jack Carney, Aim Hometown Innovations Contributor
In recent years, the communities of Brookville and Kendallville have made major strides when it comes to revitalizing their respective historic downtowns. Thanks to a new grant program initiated by the Indiana Office of Community and Rural Affairs (OCRA), both towns are poised to keep this momentum going.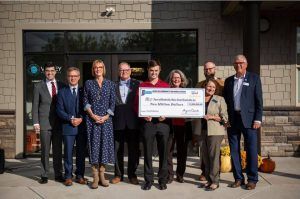 On September 10th, Lieutenant Governor Suzanne Crouch and OCRA named Brookville and Kendallville as the pilot communities for the PreservINg Main Street program. The new grant will supply both towns with $2 million over the next two years to rehabilitate buildings in the historic downtown areas.
"I am eager to see these communities come together through this program and help transform their communities," Crouch said.
"We are excited to be one of the two communities selected for this grant," Kendallville Mayor SuzAnne Handshoe said. "Our downtown has had major renovations in sidewalk, street, lighting, benches and trees in the past two years. Now we can concentrate on restoring the beautiful facades that may have been covered or damaged through the years. We need to preserve its history and the stories that go with the buildings."
This new grant was catalyzed by OCRA in partnership with Indiana Landmarks and Indiana Humanities as part of the larger Indiana Main Street Program (IMS), which has been helping communities revitalize downtown commercial districts since 1985.
To qualify for the grant, an applying town needs be an IMS community and have a listed National Register downtown historic district. There are currently 72 communities in the state that meet these requirements.
OCRA originally planned on awarding a grant to just one community, but based on the overwhelming number of strong applicants, the organization decided to select two towns to receive funds.
"This program could not have come at a better time," Nancy Gates, executive director of Main Street Brookville, Inc., said.
Brookville has experienced a huge boost in investments, both public and private, over the past few years, and this $2 million from the state will keep that momentum alive.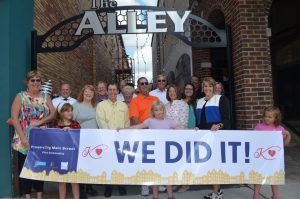 Since 2015, Brookville has seen $42.2 million invested in the community with $27 million coming from private investors and $15.2 million coming from public funds.
The largest project has been the transformation of the long vacated and neglected Valley House Hotel, built in 1852, into a mix of affordable and market-rate apartments for seniors called Valley House Flats. Another boost came in 2020 when a Cobblestone Inn & Suites, the first nationally-branded hotel in Brookville, opened.
The money from the PreservINg Main Street grants is required to go towards revitalizing the facades of historic buildings, and Gates said Brookville has identified a number of second and third floor spaces in the downtown district that are in need of exterior work. Also, there are 10 either vacant or shuttered store fronts that need to be rehabilitated.
The hope is that these exterior improvements will help the current building owners attract lessees for these spaces, which will, of course, bring new business and life to the downtown.
"We're hoping that this will generate enough interest in Brookville to where the property owners themselves would say, 'Hey, this is fantastic. I've got the improvements done on the outside, now if I get improvements done on the inside, I can lease it to a business that will be successful."
As Mayor Handshoe noted, Kendallville finds itself in a similar situation with this grant money coming on the heels of a successful $1.5 million revamp of its downtown.
"I think that may be part of the reason we were selected," Kristen Johnson, the Experience the Heart of Kendallville President, said. "We already have a lot of momentum in what we're doing for the downtown, and I think that really shined through in our presentation to OCRA for this particular grant."
Kendallville is still working on its specific plans for the grant money moving forward, but Johnson says they have considered the idea of a demonstration block – focusing their efforts towards improving one block in town that will really pop.
"We have to go through the process of property owners applying, and then we'll see where the greatest need is. We don't really have any specific buildings pinpointed at this point."
Brookville and Kendallville are the pilot communities for this project, but the hope is that the grants will be successful and that this program could benefit other Indiana towns in the future.
"The whole idea of this pilot program is that it be replicable," Johnson said. "So, we really want to make sure that we're tracking everything that we're doing, so that when (OCRA) offers (the grant) again, somebody can follow our example."