Chelsea Schneider, Municipal Innovations Specialist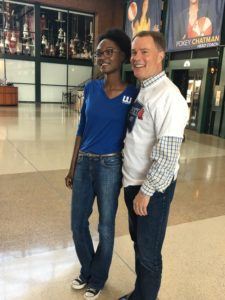 Indianapolis Mayor Joe Hogsett wanted more young adults to have access to employment opportunities and experience. From that goal, Project Indy was born. It's a program now helping to employ around 2,000 youth in the city.
Project Indy, a collaboration among the mayor's office, EmployIndy, Greater Indianapolis Progress Committee and Marion County Coalition on Youth, has its eyes on expansion. The strategy behind Project Indy is fairly simple: Pair students with a job, so they can earn money and stay busy with something productive.
And that strategy has left a positive influence on a growing number of students – and counting. In 2018, the coalition has a goal of employing 3,000 youth in summer jobs.
One of the students benefitting from Indianapolis' youth employment programs is Brianna Ingram. Today, the 19 year old has a full-time position with WorkHere, the developer of Project Indy's web application.
But she's come a long way in securing the opportunity.
Before her participation in Project Indy and other youth programs, Ingram had dropped out of high school to help care for her siblings.
Now she has the financial security to obtain her driver's license and purchase her first car. What's more: She secured a GED and is enrolled at Ivy Tech Community College.
Ingram's story and others like her show Project Indy is more than a summer job matching program, said Angela Carr-Klitzsch, president and CEO of workforce development firm EmployIndy.
"It's a catalyst for employers, educators, service providers and families to come together and prioritize employment opportunities for young adults. There is no better way to learn about the 'world of work' than through a job," Carr-Klitzsch said.
The program is trying to elevate how employers think about hiring youth and young adults, reaping immeasurable benefits for the community and economy, organizers say. Research shows young adults who have completed a work experience are more likely to get placed in a job of their choice after they finish school.
Along with Hogsett's strong support, Project Indy has been helped along by a federal grant, which has given employers who might have been hesitant to hire someone with little work experience greater confidence in entering the program. Currently, 78 companies, including FedEx, Crew Car Wash, McDonald's and the National Junior Tennis and Learning of Indianapolis place program participants between the ages of 16 and 24.
"Providing summer jobs for Indianapolis' young people is integral to our community's growth and overall well-being," Hogsett said. "As we have achieved each summers' employment goal – one thousand teens in year one, and double that number this summer – the impact of this program on local youth, on their families, and on the city as a whole has been made abundantly clear. I look forward to expanding this program even further in the coming year as we actively cultivate our next generation of talent."