Jack Carney, Aim Hometown Innovations Contributor
As we all know all too well, the year 2020 was unlike any other.
It presented our country with a myriad of challenges that are probably more accurately described as crises.
The COVID-19 pandemic, the marches and protests following the killing of George Floyd and the political division surrounding the 2020 presidential election come to mind, to name just a few.
These issues are wide-reaching, affecting the whole nation and even the whole world when it comes to COVID-19, but, of course, even gigantic problems like these can and often must be addressed at the local level.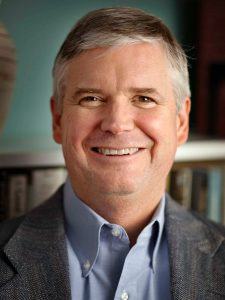 In July of 2020, Mayor John Hamilton began his effort to combat these and other difficult problems at the city level in Bloomington. In a public address that could be viewed on Facebook, Hamilton proposed a multi-year initiative called "Recover Forward" that aims to help his community rebound and move towards more racial, economic and climate justice in the process.
"Any one of these challenges could be all-consuming: a global pandemic, economic dislocation and collapse, our climate emergency, racial injustice," Hamilton said. "Add in political meltdown, divisiveness, and physical isolation. It's not easy. But this is Bloomington, and we will respond. We want this world to get better and to leave the next generation a better community."
An emphasis in Hamilton's speech was that his plan aims to not only restore Bloomington after the setbacks that came in 2020 but to make the city better than before.
"Let's be clear: Recover forward — recovering the right way — is not a return to some pre-pandemic normal," Hamilton said. "It is recovering into a community consistent with our values."
Hamilton and his team have divided the Recover Forward plan into three phases – Phase One created a number of initiatives and investments beginning in the second half of 2020, Phase Two continued many of these programs into 2021 and Phase Three will carry this work into 2022 and beyond.
For Phase One in 2020, Mayor Hamilton obtained permission from the city council to use $2 million from 2019 appropriations that went unspent.
The $2 million was allocated into three buckets: equitable and sustainable recovery ($1 million), job growth and economic recovery ($500,000) and affordable housing recovery ($500,000).
The equitable and sustainable recovery funds were specifically invested in improving non-auto mobility with sidewalks and transit stops, more energy conservation in buildings and in a stronger local food economy. Also, funds were directed to the arts to revive a sector hit especially hard by the pandemic.
The job growth and economic recovery money went towards helping smaller local firms and nonprofits hire people, particularly hard-to-employ or underemployed individuals.
The final half million for affordable housing recovery was directed towards new homeownership opportunities for working families and others, assuring that people from all walks of life can live and thrive in Bloomington.
Further specifics about Phase One initiatives are listed below. All information was obtained from the Recover Forward Bloomington website but has been edited for clarity and brevity:
Phase One Projects:
Code School: $100K
This 12-week coding training program launched in October 2020 and is focused on helping people who are un- or underemployed, underrepresented, or interested in training for a tech career.
Affordable Home Ownership: $450K
The city's Housing and Neighborhood Development Department (HAND) launched two new programs to assist homebuyers who have difficulty accessing the Bloomington homeownership market.
Down Payment Assistance: $100K
This program builds directly on an existing federally funded HAND program and offers homebuying-ready families up to $10,000 to help with a down payment needed to purchase a home.
Shared Appreciation Home Ownership, 2nd Mortgage Assistance: $350K
This program provides larger purchase assistance to potential homebuyers — up to $50,000 and at least 20% of the purchase price — to facilitate the purchase, in exchange for permanent affordability of the home through shared appreciation.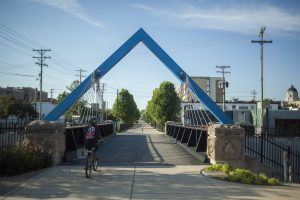 Sidewalk and Path Enhancements: $400K
This program focuses on investments in low- and moderate-income areas to improve ADA curb ramps, bike lane and bike path pavement, and repair sidewalk damage.
Sidewalk/Path Improvements for BT Stops: $250K
This project improved accessibility to at least 25 Bloomington Transit (BT) bus stops. The stops were chosen based on BT's 2019 accessibility inventory, a comprehensive bus stop assessment and inventory that evaluated and rated each bus stop according to ADA and accessibility guidelines.
Jack Hopkins: $200K
The City Council's Jack Hopkins Social Service Committee convened in September 2020 to reconsider grant proposals from nonprofit agencies made during the first round of awards, to allocate additional funding as quickly as possible. The committee reached out to nonprofit agencies and considered several scenarios to maximize the benefit of this funding for the populations the agencies serve.
Net New Job Incentives (to Small Businesses and Organizations): $375K
-Re-entry support: The city's departments of Public Works and Economic and Sustainable Development have worked in collaboration to execute two contracts for direct employment support of up to 15 individuals with Centerstone and Made Up Mind to assist with city-wide maintenance efforts in coordination with the Department of Public Works' Street and Facilities Divisions.
-Additional funds ($50K) allowed the Department of Parks & Recreation to expand its existing Centerstone Service Agreement Program Partnership this season to hire additional clients of Centerstone as crew assigned to park maintenance, landscaping, playground sanitation, and maintenance at several Sport Division facilities.
-Building Trades: Additional funds ($100K) allowed the city to partner with Ivy Tech Community College to bring the National Center for Construction Education & Research (NCCER) curriculum and essential equipment to the Ivy Tech Bloomington campus to train 50 students over the course of 2021.
-Direct New Job Support ($75K): These funds offset a portion of the costs associated with the permanent, full-time hiring of individuals who have participated in any of the Recover Forward Re-Entry Support programs.
Life Sciences Support: $50K
Ivy Tech offers a Biomanufacturing Apprenticeship Program supported by Recover Forward, a free three-week training in skills needed to gain employment in the region's robust biomanufacturing sector. The 110-hour, three-week course features two weeks of biomanufacturing-specific content and one week of soft skills content and includes an interview process with local manufacturers.
Energy Efficiency—Commercial & Residential Improvements: $250K
Through energy-efficiency loans and grants, this program reduces energy burden and operational costs for eligible homeowners, renters and small businesses, primarily targeting income-restricted homes or small businesses as well as multi-family units managed by property management companies with greater than five units.
Farm Stop: $75K (initial investment)
This project addresses the fragility of the local food system by creating a consignment-based, local-only grocery store, following the successful model developed by the Argus Farm Stop in Ann Arbor, Michigan.
Arts Community: $100K
The Economic and Sustainable Development Department (ESD) developed a grant process to ensure the rapid dissemination of funds before the end of the year 2020 with an additional $100K allocated to support the city's arts institutions and programs.
Digital Equity: $35K
The city's Information Technology Services department has developed best practices for setting up and administering a digital equity grants fund to support local nonprofits in their efforts to bridge the digital divide. At the same time, staff have also reviewed best practices of other cities with digital equity funds and established a subcommittee of the Bloomington Digital Underground Advisory Committee for the review of grant proposals.
Phase Two – 2021:
Mayor Hamilton and the Bloomington City Council earmarked another $2 million from reserves to continue many of these programs while adding new ones in 2021. Bloomington also benefited from federal funds made available by the America Rescue Plan Act (ARPA) that was passed by Congress and signed into law by President Joe Biden in March 2021.
At the 2021 budget planning meeting that took place in the fall of 2020, Hamilton gave remarks on the big three Recover Forward priorities: racial justice, economic justice and climate justice: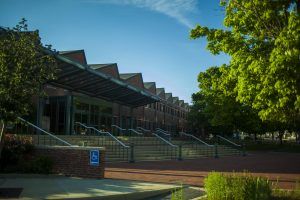 Racial Justice
"We'll be implementing the Divided Communities community-wide task force now and into 2021, through which our community may engage with many potential topics around race and racial justice: from public education to housing, health care and jobs, criminal justice and public safety, and more."
Economic Justice
"Our Recover Forward program for 2021 includes jobs programs to open up better paying jobs to people too often left out. It includes energy efficiency investments to lower the cost of living in moderate and low-priced housing. It includes funding to support often low-wage workers in the arts and in local agriculture. It includes those investments to support home ownership and to help those experiencing homelessness. And it includes investments to expand public infrastructure like sidewalks, trails and bus stops, for all of us to use."
Climate Justice
"Our Recover Forward program for 2021 includes those investments in building public improvements for lower carbon footprint and costs. It includes the support for local agriculture and non-automobile transportation options. And we'll continue our citywide efforts with a Climate Action cabinet group and our Sustainability Action Plan. 2021 will also see significant climate related action from the Housing Authority, our Utility Department, and we have the announcement that Bloomington Transit won a major grant to purchase four new electric buses, on order for 2021."
Phase Three – 2022 and Beyond:
Mayor Hamilton plans to continue and expand many of these programs into 2022 and 2023 thanks again to federal money from ARPA.
"The American Rescue Plan Act is what made it possible for us to ramp up in 2021 and expand the investments, and that will continue in 2022," Hamilton said. "We have about $10 million of ARPA money that is earmarked for this year for Recover Forward investments to help our community advance into the future, and we will have some more in 2023. Of course, the challenge is that that's one-time money, and it's helped us do some pilot programs to see what works. And we'll be able to talk about how to keep those programs going in the long run if we want to and if we can. But in the short run, we're set to keep doing this big range of investments in work force and jobs and access to the social safety net, in housing, in climate justice and all of the lenses of improving our overall inclusion as a city to make sure we work for everybody."