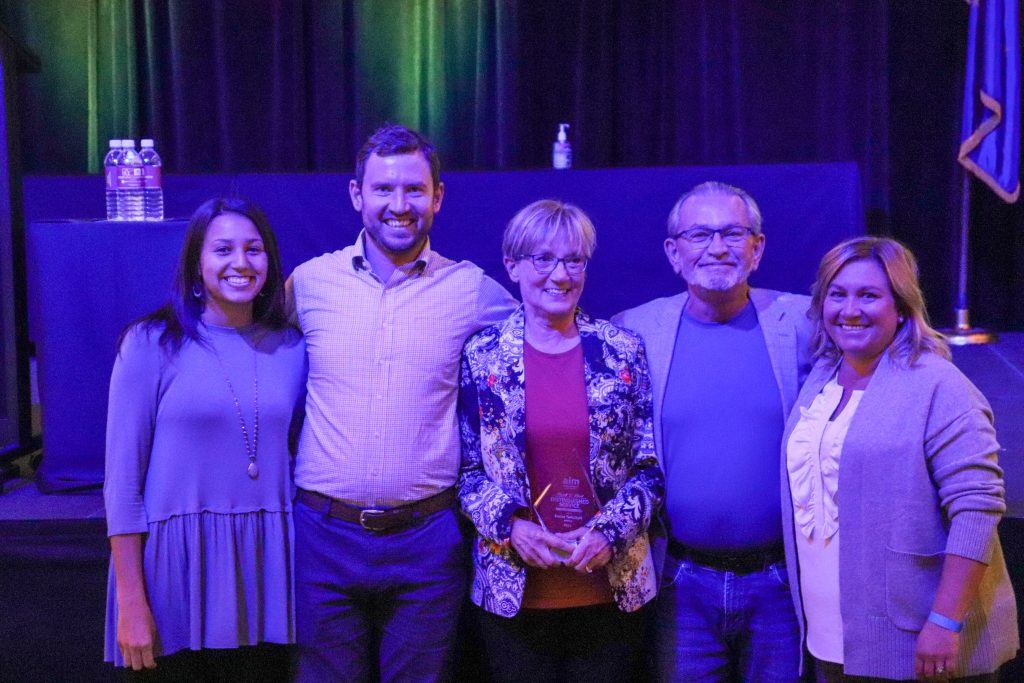 FRENCH LICK – Debra Twitchell of Angola received the 2021 Russel G. Lloyd Distinguished Service Award from Accelerate Indiana Municipalities (Aim). Twitchell received the award on October 6 during the Presidents' Reception at the 2021 Aim Ideas Summit.
Twitchell became Clerk-Treasurer of the city of Angola in 1992 after serving as Clerk-Treasurer for the Town of Orland. She retired from her position in June 2021. Twitchell served with two mayors during her time in Angola. She is described as having the rare ability to balance the needs of the community and the needs of the city's employees through the annual budget. She made time to talk with colleagues about proposed or upcoming projects and what was the best way to pay for them. Deb has been a valued board member of Aim and an active member of the Indiana League of Municipal Clerks and Treasurers. She is well known around the state as someone who will help and mentor another Clerk-Treasurer without hesitation. She's well regarded for her expertise and regularly looked to for presentations and advice.
Aim CEO Matt Greller praised Twitchell's quiet confidence, "Deb Twitchell earned this prestigious award many times over.  For decades she has used her amazing skills as a municipal fiscal officer to help guide her peers and fellow municipal officials in their deliberative processes.  She became a defacto mentor and educator and gave selflessly of her time, all while going about her many responsibilities to the people of Angola.  Further, Deb was always willing to engage with lawmakers to ensure they had the perspective of a practitioner when passing laws that impact cities and towns.  I have utmost respect for Deb and hate to see her move on.  However, if anyone has earned a break, it's certainly Deb Twitchell!"
In its 45th year, the Aim Annual Awards program, presented by Baker Tilly Municipal Advisors LLC, recognizes communities and individuals in municipal government for excellence and outstanding achievement. A seven-member panel of qualified judges selected this year's winners from a competitive field of nominees from around the state.
Conference Facts:
2021 Aim Ideas Summit
October 5-7, 2021
French Lick Resort
Attendance: 1,000 (pending final registration count)
Further information: www.aimindiana.org
Since the 1890s, Aim, formerly the Indiana Association of Cities and Towns, has been an advocate for Indiana municipalities.  Aim is the official voice of municipal government in Indiana, with more than 460 cities and towns as members.  Our purpose is to foster, promote and advocate for the success of Hoosier municipalities as laboratories of innovation, hubs of talent and the engines driving our state's economy.